Tag Archives:
Movie Realization
Toy Fair is upon us and Fantha Tracks have posted photos of two newly revealed Star Wars Movie Realization figures on Twitter. A "Shogun Ackbar" and a "Ronin IG-88" are in the works! Click the image below for a better look and go to the Fantha Tracks Twitter page for a bit more!
The Samurai themed Movie Realization action figue line by Tamashii Nations will get an interpretation of C-3PO. The figure will be released in January 2019, price is 9.504 Yen (about 85 USD). The figure does have articulated eyes and jaw. Check out some photos on the official Tamashii Nations website, the info is in Japanese, but Google Translate is your tool of choice here. You can also check out some more photos of the figure! Pre-orders will most certainly open soon. What do you think? Do you like Samurai C-3PO and is he something you will add to your collection?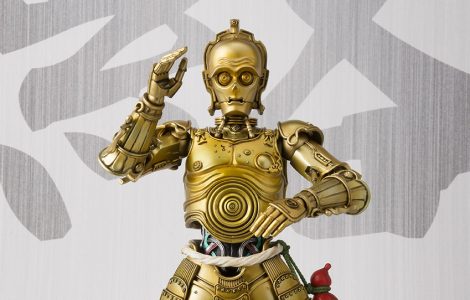 A social media user asked Bluefin Brands' if we'd see "good guys" soon in the Movie Realization line. See what they teased in response. Special thanks to JTA reader Matthew C. for the tip.
We've opened up a brand new Tamashii Nations Visual Guide tonight, and our first entry is the Meisho Movie Realization Sohei Darth Maul. Click below to have a look at our Visual Guide for this figure, and make sure to check out our full review and extended gallery over in our review. A big thanks to Tamashi Nations for providing us with this sample for our Archives.
We graciously thank Tamashi Nations for providing us with the Sohei Darth Maul review sample. See why it's such an astonishing figure in our Research Droids Reviews today! Be sure to leave your thoughts in our comments section, vote in the poll or even comment about it on our Facebook page. Click the banner below for the direct link to the review! As always, you can also send your review requests via email if you'd like to see something that we didn't cover yet.
-Click HERE to return to the home page-