Tag Archives:
Matt Ferguson
Hurry! This will probably sell out fast! The Return of the Jedi 40th Anniversary double-sided one-sheet is now available at Disney Movie Insiders for 400 points. 
If you don't have enough points, you can pick some up on eBay! 
Update: While today's Wins Day allotment is out, there will be a small allotment available again tomorrow starting at 12 PM Eastern in celebration of the 40th Anniversary of Return of the Jedi. If you slept on today's release, you'd better be ready tomorrow!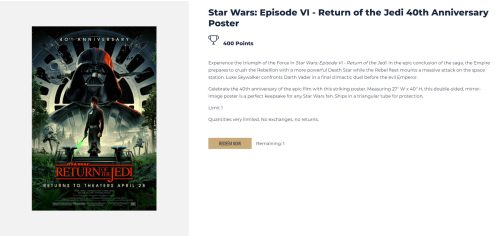 Following up the amazing The Empire Strikes Back release, the Limited Edition Return of the Jedi 40th-anniversary screen prints by  Matt Ferguson are now on sale over at Bottleneck Gallery. You have until Sunday, May 7th at 11:59 pm Eastern to order either of the timed-release versions, but if you want the variant version you'd better get that now. They are very limited. Last time, The Empire Strikes Back variants sold out very fast. The edition size for the regular versions will be determined after the sale period ends.  
Each poster is 24×36
Regular  Version – Timed Release @ $65
Japanese Version  – Timed Release @ $65
(Can purchase a matching numbered set for $125)
Variant Edition –  Edition of  425 @  $85
Japanese Variant – Edition of 425 @ $85
It's the 40th Anniversary of Return of the Jedi, and Matt Ferguson has again made a beautiful poster to celebrate the event! For this release, Matt's following up with the same style as his The Empire Strikes Back 40th Anniversary poster. Hopefully, we will be seeing the full DS version of this poster on Disney Movie Insiders soon!
Fans attending the 40 Years of Return of the Jedi panel yesterday at Star Wars Celebration were treated with a 13×19 version of this poster on their way out. 
Return of the Jedi will also be heading back to select theaters starting on April 28th. Read about that and more at Starwars.com.
-Click HERE to return to the home page-