Tag Archives:
Luke Skywalker's X-Wing Fighter
We have our full Visual Guide of the newly released The Vintage Collection Luke Skywalker's X-Wing Fighter available. Click below to check out the guide page, and make sure to stop by and read our full review. You can still pre-order this amazing vehicle over at our sponsor Entertainment Earth.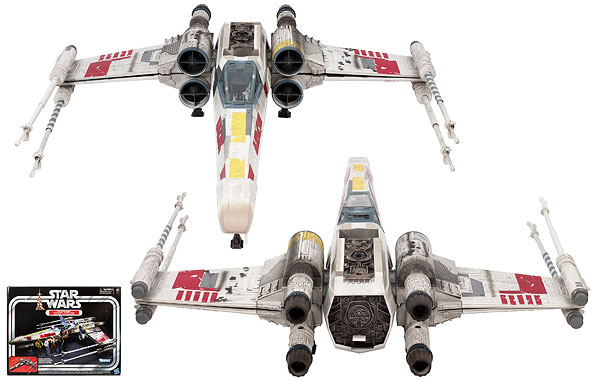 WOW! It's our 200th review for The Vintage Collection line! Luke Skywalker's X-Wing Fighter hasn't looked better! Hasbro upgraded the deco making this the definitive version of our favorite hero's vehicle. See this iconic vehicle in all of its glory and learn EVERYTHING you NEED TO KNOW about this just-released vehicle. It's all in our Research Droids Reviews today! Be sure to leave your thoughts in our comments section, vote in the poll or comment about it on our Facebook page. Click the banner below for the direct link to the review! As always, you can also send your review requests via email if you'd like to see something that we didn't cover yet.
This post contains affiliate links. At no additional cost to you, JTA may receive a commission if you click and make a purchase.
Get The Vintage Collection Luke Skywalker X-Wing Fighter by October 10th at Best Buy. Special thanks to JTA reader AJ for the alert!
Luke's X-Wing for the Vintage Collection was just revealed! Check out the high resolution photo below! No details yet on availability, I will update the article when more details are known! For now you can examine the box in great detail when you click the photo below!
-Click HERE to return to the home page-