Tag Archives:
Luke Skywalker (Jedi Exile)
It's time to order the gorgeous Luke Skywalker (Deluxe Edition) sixth scale figure from Hot Toys. Click here for the pre-order page! You can also order the regular edition right here.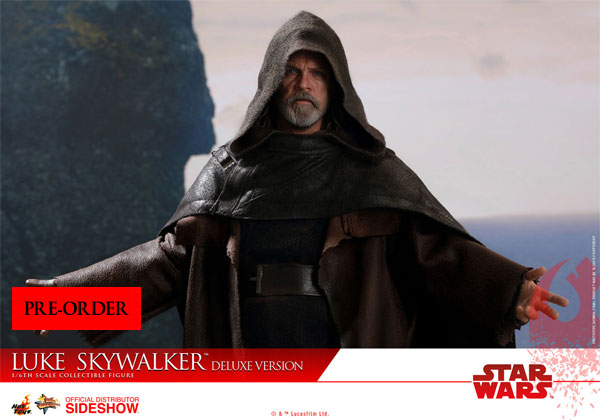 We are kicking off a brand new wave of Star Wars [The Last Jedi] figures. First up is Luke Skywalker (Jedi Exile). Check out the full Visual Guide below. We also have a full review of this figure right here.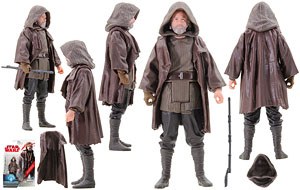 New figures have arrived! Let's check out Luke Skywalker (Jedi Exile) from the Force Link line. He's the focus of our Research Droids Reviews today! Be sure to leave your own thoughts in our comments section, vote in the poll or even leave comments about it on our Facebook page. Click the banner below for the direct link to the review! As always, you can also send your own personal review requests via email if you'd like to see something that we didn't cover yet.
We have a sneak peek for you of the newest wave of Force Link basic figure before we begin the reviews tomorrow! Check out galleries and collector notes for these figures now. DJ (Canto Bight) is a nice figure, but it doesn't look much like Benicio Del Toro at all. He comes with an all-new and very cool blaster that looks like something from the Old West. R2-D2 is the star of the wave for us. Hasbro resurrected the Build A Droid sculpt for this figure and we couldn't be more elated about it. Luke Skywalker (Jedi Exile) looks much better without his hood but comes with two extra points of articulation: swivel wrists. And Rey (Island Journey) is really just a reason for Hasbro to double dip on a version of this character we already have, but this all-new sculpt does come with swivel elbows this time around. Click any of the images below to be taken to our Research Droids Reviews on this wave of figures. General Leia Organa and Jyn Erso (Jedha) will be forthcoming.
JTA Facebook reader Chris C. posted a couple of look images on our Facebook page showing how nice the head sculpt of Luke Skywalker (Jedi Exile) from the Force Link line looks. Check it out by clicking the thumbnail below.
Product pages have been added to Hasbro Toy Shop for the next wave of Force Link figures. Click any image below to be taken to that figure's product page. Special thanks to Alientek for the alert!
-Click HERE to return to the home page-