Tag Archives:
Legends
Solo: A Star Wars Story has a lot of Easter eggs as you probably well know. One of the parts of the movie that may be difficult to get a good long look at the background details is Dryden Voss' study. Well, luckily for us, Star Wars.com has this amazing video showing off some of the items in his collection. Whew, that Mando armor is hot! Also interesting to note are the references to Legends material. Click through for the full video!
Full Story
Check out the all-new and amazing Jaina Solo (Legends) The Black Series [Phase III] six inch figure in tonights Visual Guide update. Click below for our full Visual Guide page. You can also check out our extended gallery in notes on this figure in our full review.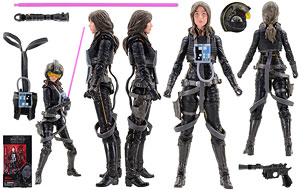 There is a magical place we all go when we we're looking for answers. No, I don't mean church, your dreams, not even television or the movies. The place I'm talking about is that wonderful place we call Wookiepedia. i09 recently spoke with two of the editors about how they take all the (what seems like endless) Star Wars knowledge and put it in a nice, neat package for us to search. Come and open this Holocron.
-Click HERE to return to the home page-