Tag Archives:
Lando Calrissian's Aide
We have a new series of Visual Guide updates starting today, featuring The Vintage Collection wave 32. First up, let's take a look at Lobot (VC223). Click below for the full Visual Guide page, and click here if you want to check out our full review.
Want to see your action figure photography represented in this Visual Guide? Click here for details and send us your submissions!
We have just one word for The Vintage Collection Lobot: WOW. (more….)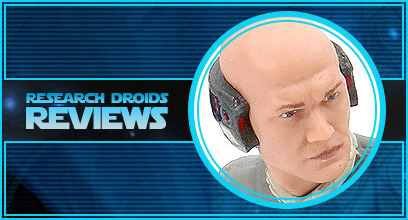 This post contains affiliate links. At no additional cost to you, JTA may receive a commission if you click and make a purchase.
I forewarned you to pick up The Original Trilogy Collection Lobot (OTC #20) figure because I knew Hasbro wouldn't include the awesome accessories that came with the neo-classic figure. Get him now before he's gone forever. You're going to want that space-aged laptop and communicator, trust me.
Welcome to another entry in our The Vintage Collection: The Ninety Six column. Hasbro recently committed to collectors that they will be "focusing" on characters in The Vintage Collection that fall under "The Ninety Six" banner. If you're new to this, it means that there needs a modern counterpart for every classic Kenner figure. Between 2020 and 2021, Hasbro's made an admirable effort by focusing on these characters. But there is more work to be done, and we'll figure out where we are step by step. Today we assess Lobot.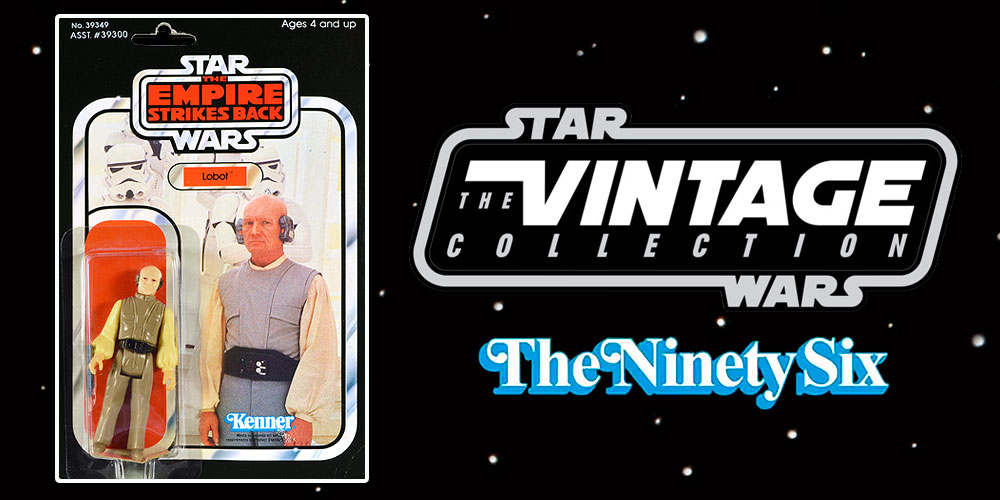 In 1984, new packaging for Star Wars figures was introduced for the European market. A cost containment initiative, the new packaging sported three languages of the Return Of The Jedi logo for a "one size fits all" approach. Although a "three-logo" design was created for The Power Of The Force line (as evidenced on some 'boxed' toys), it wasn't carried over to the basic figure line's card design. They continued to use the three Return Of The Jedi logos instead. Although the word "Trilogo" is found nowhere on the packaging, the term is universally adopted by all Star Wars collectors to describe this line of figures.
Today we revisit Lobot. Lobot's Trilogo card art features an alternate image used nowhere else in the classic toy line. Interestingly, Lobot is out of focus in the utilized image. Lando Calrissian (off-screen) is the character in focus in the uncropped film-out. See the full card art and additional notes by revisiting 1981's THE EMPIRE STRIKES BACK Lobot figure HERE.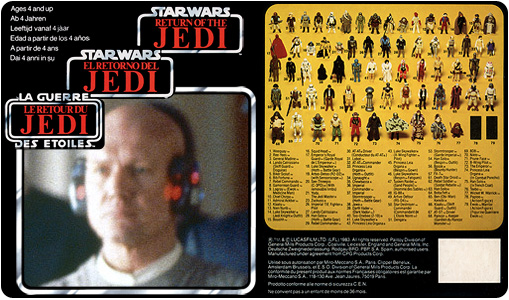 -Click HERE to return to the home page-