Tag Archives:
Knights Of The Old Republic
Hasbro confirmed that Darth Revan WILL NOT be part of the 2019 The Vintage Collection lineup. But it doesn't take a rocket scientist to figure out what's going on behind the scenes. While purely conjecture, it's nearly guaranteed that they're developing an all-new figure of this character from the ground up (and hopefully utilizing the digital files of the 6″ figure). A year ago, we wrote a controversial article which we both got praised for and criticized for, but I am glad I wrote it. (The angry people were those who missed out on the 2007 figure and were desperate to add it into their collections.) I know we must be getting something worthy of release in The Vintage Collection. I also know Hasbro read the article and noted the over 300 comments and 15K reads it received. So, you're welcome? We weren't the only ones to complain, but we started it. Sometimes "whining" pays off. It brought back The Vintage Collection, and now it's holding Hasbro to a higher standard for a collectors' line.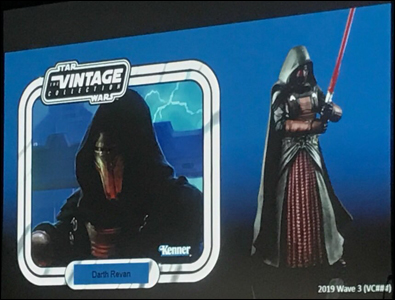 Let the past die. Kill it if you have to (but only this old figure, Hasbro).
Now this comes quite unexpected. Buzzfeed reports that Laeta Kalogridis is writing a script for the first movie of a potential KOTOR trilogy! Kalogridis wrote, among other things, Alita Battle Angel, Shutter Island, the TV shows Altered Carbon and Birds of Prey and also Terminator Genysis. So she has a lot of experience writing science fiction, and except for Terminator Geneysis most of the movies and shows she wrote are quite well liked.
But what is of interest here is that this KOTOR trilogy, according to Buzzfeed, is NOT the Benioff & Weiss project, which would be odd anyway, since they would certainly write their own scripts. It may as well be that Lucasfilm is just looking at options here. Writing a script doesn't necessarily mean that if will be turned into a movie. But it's certainly exciting that Lucasfilm is actively developing something for KOTOR, something Kathleen Kennedy only hinted at while being interviewed at SWCC. This also means, that whatever Benioff & Weiss will do won't be a KOTOR project, but something else.
Incidentally, Laeta Kalogridis would only be the second woman after Leigh Brackett to write a Star Wars movie (Brackett co-wrote The Empire Strikes Back with Lawrence Kasdan, she passed away in 1978, however). So what do you think? Would you love to get a KOTOR trilogy? The question is, when it would be released.
Speaking of Darth Revan (a much hotter topic than ever expected), JTA reader Paul B. alerts us to a rather awesome custom 1985 The Power Of The Force inspired Darth Revan figure on eBay, complete with coin. Check it out!
If you were fortunate enough to collect when The Legacy Collection launched, you were aware of some awesome products Hasbro reissued. They were so good that we bought them a second time. The Sith Legacy Evolutions set was one of these reissues. Find out more in our Research Droids Reviews today. Be sure to leave your own thoughts in our comments section, vote in the poll or even leave comments about it on our Facebook page. Click the banner below for the direct link to the review! As always, you can also send your own personal review requests via email if you'd like to see something that we didn't cover yet.
Darth Revan has been removed from Hasbro Toy Shop. This is a strange occurrence. Click the image below to see the proof. Special thanks to JTA readers James S. for the alert!
-Click HERE to return to the home page-