Tag Archives:
Jaina Solo
eBay seller tunghori has listed the super-rare Jaina Solo once again as well as figures that haven't been in stock for some time Special thanks to JTA reader Thomas P. for the alert again!
tunghori has ONE Jaina Solo left loose for $49.99. Thanks to JTA reader Craig for the alert!
I'm not exactly sure where they got it from yet, but a seller on in New York had a case of the latest wave of The Black Series 6″ that included Luke (Jedi Master), Rey (Jedi Training), Jaina Solo, Resistance Tech Rose, and Supreme Leader Snoke on Mercari. He sold them for a reasonable $23 price tag also. They could be popping up anytime now for pre-order, so keep an eye out! Another seller in Wisconsin also had the newest Funko Movie Moments, so that's another item to keep an eye out for.
You can now order The Black Series [Phase III] 6″ Jaina Solo at Gamestop.com with a release date of December 10th. I'm not sure if that is the actual date or not because I was told November in store. We'll keep you updated!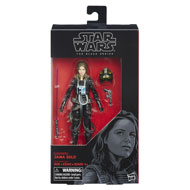 Whether this is new news for you or old news for you, we've compiled a list of the eight figures that will make up the third post-Force Friday II case assortment for The Black Series [Phase III] 6″ lineup. Can you say "case assortment suicide"? Click through for more.

Gamestop is offering Pre-Orders on The Black Series 6″ Jaina Solo IN STORE.  Not sure what the date for release is because it shows as 12/31/1979 in my Gamestop app. While I was there, I was informed that on October 11th they will be releasing a new Elite Pro Membership that will be geared towards collectibles. You will get discounts for collectibles throughout the year. I know the Pro membership is worth the $15 because of the multiple Pro Day's they have throughout the year. Found some GREAT savings today with the BOGO 50% off on ALL collectibles. Also, they can order you items in store if they don't have it in stock.
Speaking of things that make your heart skip a beat, check out what this eBay seller is trying to get for the final wave of Expanded Universe themed Legacy Collection basic figures! Hey Hasbro, this is a fertile ground and there are great options to add to The Vintage Collection from the old EU. Just don't make Ben Skywalker on principle. Thank you.
-Click HERE to return to the home page-