Tag Archives:
Imperial AT-DT Walker
Get the Force Link 2.0 Star Wars [Solo] Imperial AT-DT Walker vehicle with exclusive Mimban Stormtrooper for only $12.99 at Kids Warehouse! These will go fast! Special thanks to JTA reader Ed D. for the great news! Save $5 On Orders Over $50. Use Code: SAVE5 | Save $10 On Orders Over $100. Use Code: SAVE10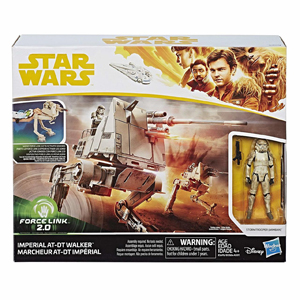 This post contains affiliate links. At no additional cost to you, JTA may receive a commission if you click and make a purchase.
If you're interested, Amazon has the AT-DT in stock for around $30 and change, which is a great price. Special thanks to friend mechabug for the alert. They have other awesome "Solo" items in stock too, so check them out!
Wo! Here you go, folks! Pre-order the Star Wars [Solo] Imperial AT-DT Walker at Amazon right now. It's currently out of stock, but you can still pre-order it. If you need to know more about this fun toy, see our review of it RIGHT HERE! Special thanks to JTA reader Alientek for the alert!
We are adding the cool Imperial AT-DT Walker to our Visual Guides tonight, which also includes a new version of the Mimban Stormtrooper. Click below to check out this Star Wars [Solo] vehicle. Make sure to also check out our full review right here.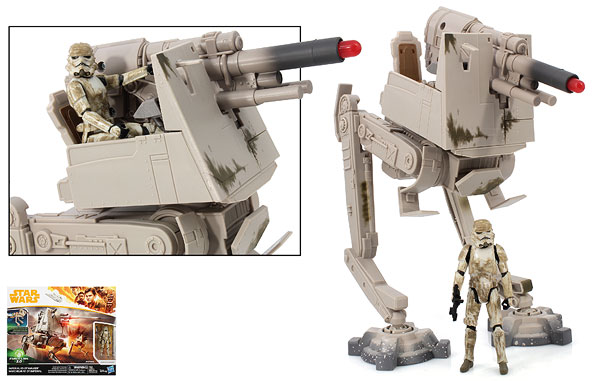 NEW FIGURES! The Imperial AT-DT Walker is a fun toy! And it comes with an all-new Stormtrooper (Mimban) figure. Learn more in our Research Droids Reviews today! Be sure to leave your thoughts in our comments section, vote in the poll or even comment about it on our Facebook page. Click the banner below for the direct link to the review! As always, you can also send your review requests via email if you'd like to see something that we didn't cover yet.

JTA reader Scott M. has secured the Solo: A Star Wars Story AT-DT. He was inspired to give it a dirty wash and you can check out the results by clicking the thumbnails below.
A new vehicle from Solo: A Star Wars Story has shown up on eBay and if you're so inclined you can order one too! The Imperial AT-DT Walker looks pretty cool!
-Click HERE to return to the home page-