Tag Archives:
Hyper Real
Isn't the HyperReal line supposed to give collectors realistic interpretations of on-screen characters? Then why does Luke Skywalker look more like a 5″ Galaxy of Adventures figure instead? Thank the Maker we won't be seeing any more of these. See why this figure is a disappointment. (more….)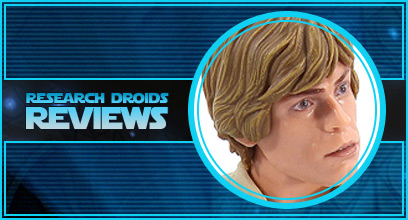 Thank you for reading Research Droids Reviews: Season 12!
We have a lengthy review on The Black Series Hyper Real Darth Vader, which will hopefully tell you everything you need to know about the brand new figure. Oh, and we also have a large photo gallery too! Check it out in our Research Droids Reviews today! Be sure to leave your thoughts in our comments section, vote in the poll or comment about it on our Facebook page. Click the banner below for the direct link to the review! As always, you can also send your review requests via email if you'd like to see something that we didn't cover yet.

Yeah, even Amazon thinks $79.99 is ridiculous for a Hasbro figure. They've listed the Hyper Real Darth Vader for $49.99 with Prime. Hurry! Thanks to Cybereye for the alert!
UPDATE: Hyper Real Darth Vader is now $79.99! They must have been alerted to their mistake!
Hasbro and Litzky PR have released official PRESS IMAGES of the new reveals today at Toy Fair. Here is the Hyper Real gallery!
Posted in
Hasbro
Tags:
Hyper Real
-Click HERE to return to the home page-