Tag Archives:
Hot Toys: Sixth Scale Vehicles
Pre-orders are now open for both the AT-RT (TMS090) and the 501st Legion AT-RT & ARF Trooper Set (TMS091). Click below for the pre-order pages.
The amazing AT-RT will also be available as a set with the ARF Trooper. Click through for full details on the ARF Trooper and 501st Legion AT-RT (TMS091) 1/6 Scale Set!
First displayed at this year's Star Wars Celebration, Hot Toys has finally officially announced the Sixth Scale 501st Legion AT-RT (TMS090). Click through for full details and gallery images.
Hot Toys also officially reveals The Clone Wars Heavy Weapons Clone Trooper and BARC Speeder with Sidecar, featuring an amazingly cool base to hold this set! Check out their full gallery on their Facebook page, and click through for all the details and specs.
We got a sneak peek at the Sideshow Collectibles booth last night which was showcasing some amazing new Hot Toys items, including today's official reveals! Hot Toys officially announces The Clone Wars Commander Appo and BARC Speeder (TMS076) set. Click through for details. You can check out the full gallery over on their Facebook page.
This post contains affiliate links. At no additional cost to you, JTA may receive a commission if you click and make a purchase.
Pre-orders are open over at Sideshow Collectibles for today's The Mandalorian Sixth Scale reveals:
Hot Toys hits us with another addition to their 1/6 scale The Mandalorian line with an all-new 1/6 scale Swoop Bike Vehicle (TMS053). Click through for complete details!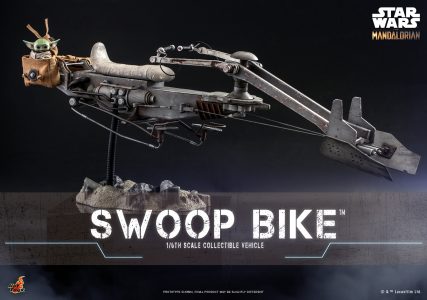 -Click HERE to return to the home page-