Tag Archives:
Holographic Maz Kanata
Here are some of my feelings regarding NYCC this year which includes some opinion on The Vintage Collection, The Black Series [Phase III] 6″ line, rumors confirmed and distribution's salvation thanks to one specific retailer. Click through for more!

We have Canadian TRU Exclusive/Entertainment Earth Exclusive The Last Jedi multipack from Star Wars [Solo] as our Visual Guide update tonight. Click below to check out this set. You can also read all of the details on this exclusive set right here in our review database.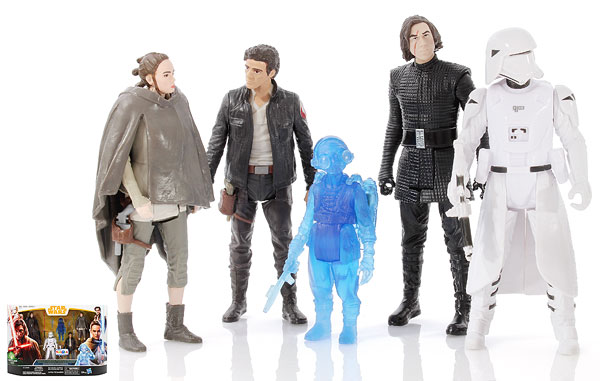 The only thing worse than another Maz Kanata figure is a holographic one. Or is it? (Hey, at least we get to see what the Force Link 2.0 chip looks like now.) See why the former Toys R Us exclusive (in the USA) Star Wars [Solo] Kylo Ren/Holographic Maz Kanata/Rey (Island Journey)/First Order Snowtrooper/Captain Poe Dameron multipack, now an Entertainment Earth exclusive, may not be a hit. Learn more in our Research Droids Reviews today! Be sure to leave your thoughts in our comments section, vote in the poll or even comment about it on our Facebook page. Click the banner below for the direct link to the review! As always, you can also send your review requests via email if you'd like to see something that we didn't cover yet.
JTA reader Ken alerts us to a confirmed listing of the Toys R Us exclusive Force Link 2.0 5-Pack (on their Canadian website). As you know, this item showed up in Japan recently. And now for North America remains in limbo with the death of Toys R Us.
-Click HERE to return to the home page-