Tag Archives:
Happy Beeps
If you haven't already, May the Fourth is a great time to go check out our friends over at Happy Beeps!  Over the last year, this online catalog for Star Wars merchandising and publishing has reached more than 25,000 entries, from action figures to vehicles to LEGO to Hot Wheels to high-end collectibles – plus novels, comics, games, and more.  You can search the catalog by Star Wars character, by any of nearly 50 licensees, by place on the Star Wars Legends and Canon timeline, and more!  Best of all, you can create a free account to track your collection – what you have, what you want, and what's on the way.  Even if you just want to browse around and see what amazing stories and products have been released from the galaxy far, far away in the last 47 years, head on over, you won't regret it.  You can also head over to Happy Beeps' Facebook page to follow their updates, and when you do, tell'em Jedi Temple Archives sent you!
If you haven't stopped by our affiliate site Happy Beeps in a while, the team over there has been adding all kinds of fun stuff for the curious collector, or really any fan of the galaxy far, far away.  Their massive database of Star Wars merchandise and publishing now has more than 20,000 entries, from early media kits for A New Hope developed in 1976, all the way up to the May the Fourth action figures, premium statues, and plush toys announced just this morning!  The best part is that Happy Beeps makes it fun to explore whatever piques your interest, by character, by film or tv show, or licensee—and once you start clicking, you just might not be able to stop!
Happy Beeps also lets you create a free account to track your own collection, your wish list, and even keep track of all your pre-orders so you know what's coming to your mailbox and when.  Check out some images below, and when you visit the site, tell 'em Jedi Temple Archives sent you!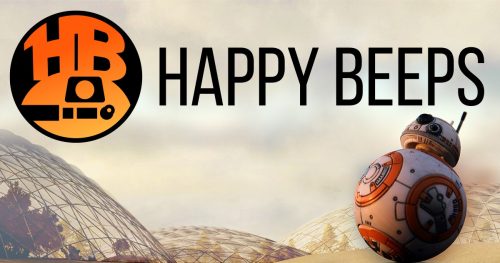 JTA is proud to (finally) announce a new website officially launching today: Happy Beeps! We hope our friends and viewers can help spread the word!
If you're looking for something new to add to your daily Star Wars routine, we recommend taking a gander at Happy Beeps, an all-new website launching this May the 4th!  Happy Beeps is an interactive database of more than 8,000 Star Wars toys, from action figures and vehicles to Lego, Hot Wheels, Funko, and more…all of it organized and presented with the curious collector in mind.  Members can also mark their favorites and catalog their own collections to see what they're missing – and for books and comics enthusiasts, you can browse through 45 years and over 9,000 works of Star Wars fiction, non-fiction, TV, magazines, commentary, and more!  With dedicated sections for the Latest Releases and what's Coming Soon, Happy Beeps might be one of the broadest and most fun new Star Wars databases out there, and it's definitely a unique take on the galaxy far, far away.  Head on over, and tell us what you think! You can also click through for some screenshots from some of the content you can expect to find!
-Click HERE to return to the home page-