Tag Archives:
Han Solo In Carbonite
Hurry! Pre-order The Vintage Collection Jabba's Palace Adventure Set with exclusive carded Han Solo (In Carbonite) and Ree-Yees!
UPDATE: It looks like it is going back and forth from 'pre-order' to  'out of stock' so keep checking back. 
Welcome to another one our JTA Presents: Evolutions features! Let's check out how close or far we are from having an ideal Hasbro 3.75″ Han Solo (In Carbonite) action figure. Have we arrived at definitive status yet? Weigh in and let us know what conclusion you'll come to by clicking through and adding your two cents in the comments!
Posted in
Evolutions
Tags:

3.75" Action Figures, 3.75" Super-Articulated, Han Solo, Han Solo (In Carbonite Block), Han Solo (In Carbonite Chamber), Han Solo In Carbonite, Hasbro, Kenner, The Black Series [Phase II], The Power Of The Force, The Power Of The Force "2" [FlashBack/CommTech], The Power Of The Force "2" [Red], The Saga Collection
Han Solo in carbonite block, Boba Fett, Emperor's Royal Guards: they're ALL coming in the S.H. Figuarts line. Dang. Other licensees should be trembling in their shoes now.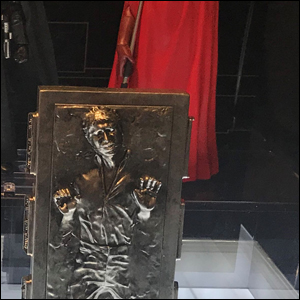 Check out the newly released Sideshow Collectibles Sixth Scale Han Solo In Carbonite, our latest addition to the Visual Guides. Click below for a detailed look at this very cool collectible, and make sure to also stop by and read our full review.
It's time to check out the very cool Han Solo In Carbonite 1:6 Scale Figure from Sideshow Collectibles. This one is much nicer than the first version that came out eight years ago. Find out why in our Research Droids Reviews today! Be sure to leave your own thoughts in our comments section, vote in the poll or even leave comments about it on our Facebook page. Click the banner below for the direct link to the review! As always, you can also send your own personal review requests via email if you'd like to see something that we didn't cover yet.
-Click HERE to return to the home page-