Tag Archives:
Han Solo (Endor)
The Han Solo (Endor) figure from the Retro Collection line is not bad. But did any of us need another version of this Han Solo ever again in our collections? (more….)
It's the 40th Anniversary of Return Of The Jedi! And the Han Solo (Endor) figure is an expected addition to the line. But aren't you bored of this character by now? (more….)
Thank you for reading Research Droids Reviews: Season 14!
Posted in
Research Droids Reviews Season 14
Tags:

6-inch The Black Series Action Figures, Battle Of Endor, Han Solo (Endor), Han Solo (In Trench Coat), Hasbro, Kenner, Rebel Alliance, Return Of The Jedi, Return Of The Jedi 40th Anniversary, Star Wars 40th Anniversary, Star Wars Episode VI: Return Of The Jedi
Welcome to another entry in our The Vintage Collection: The Ninety Six column. Hasbro recently committed to collectors that they will be "focusing" on characters in The Vintage Collection that fall under "The Ninety Six" banner. If you're new to this, it means that there needs a modern counterpart for every classic Kenner figure. Between 2020 and 2021, Hasbro's made an admirable effort by focusing on these characters. But there is more work to be done, and we'll figure out where we are step by step. Today we assess Han Solo (In Trench Coat).
The Vintage Collection Han Solo (Endor [In Trench Coat)]) (VC62) figure is a frustrating release. But, we have to give Hasbro credit. They made this figure look as good as it likely ever will unless they tool a new figure. The Photo Real updating is excellent, and the new color of the trench coat is great. But Hasbro changed a long-running name on this figure which will upset Kenner purists. It has many other enhancements as well. We took the time to break it all down for you by producing an all-new 80-image gallery complete with all versions (2006, 2011, and 2021) featured, comparison shots, diorama shots, and a breakdown of what separates the two releases in the Collector Notes. Check out this excellently updated figure in our RDRs now! There's more difference here than you may realize.
Sigh. I shouldn't have walked away from Hasbro Pulse's Fan Fest online event saying "Why does Hasbro hate The Vintage Collection collecting community so much? Why are they completely disengaged from its needs?" But I did. And between the sorry repacks confirmed, to the desperately needed repacks they're dangling over our heads, I understand why people are fleeing from this scale left and right. The straw that broke the camel's back for me was the announcement of the re-released Han Solo (Endor) figure. Does Hasbro store any record-keeping of their releases? Do they go to discount outlets? Do they have any indication of what fans want? (more….)
Posted in
Rants & Raves
Tags:

3.75-inch Super-Articulated, Admiral Ackbar, Ahsoka, Emperor's Royal Guard, Expanded Universe, Fan Channel, Fans' Choice, Han Solo (Endor), Hasbro, Imperial Assault Tank Driver, Kenner, Luke Skywalker (Hoth), Repacks, Republic Trooper (The Old Republic), Return Of The Jedi, Starkiller (Vader's Apprentice), The Clone Wars, The Empire Strikes Back, The Vintage Collection, The Vintage Conversation, Weequay
The Black Series 6″ Han Solo (Endor) figure is not bad! But where are the Rebel Commandos? (more….)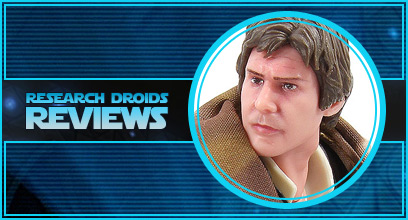 -Click HERE to return to the home page-