Tag Archives:
Han Solo (Carbonite) (VC136)
Question. Actually, two questions. Question #1: Should The Vintage Collection Ree-Yees (VC137) and Han Solo (Carbonite) (VC136) from Jabba's Palace (Adventure Set) receive VC numbers part of the regular lineup, or should they instead receive a number more similar to the one given to Yak Face from Jabba's Sail Barge (The Khetanna) (VC000)? Do you find it bothersome in any way that figures part of the basic figure numbering system are exclusive to playset? I suppose the same would apply to retailer exclusives like Lando Calrissian (Skiff Guard) (VC144) and Han Solo (Stormtrooper) (VC143) as well.
Question #2: Should Han Solo (Carbonite) (VC136) have been part of this set? Shouldn't Hasbro have added the redone magnetic carbonite block as an accessory here and instead included another Jabba's palace alien? The reason I bring this up is that Han Solo is based on his appearance from The Empire Strikes Back and not Return Of The Jedi. Oh, and if you think neither of these questions is important, please skip over this post. Thanks.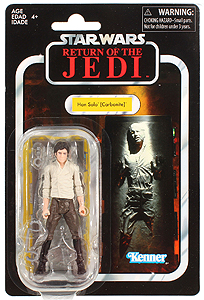 Here's the review of the Jabba's Palace (Adventure Set). It's big, it's beautiful, and you're going to love it. Find out why this is a must-have purchase in our Research Droids Reviews today! Be sure to leave your thoughts in our comments section, vote in the poll or even comment about it on our Facebook page. Click the banner below for the direct link to the review! As always, you can also send your review requests via email if you'd like to see something that we didn't cover yet.
Posted in
Research Droids Reviews
Tags:

3.75" Super-Articulated, Gran, Han Solo (Carbonite) (VC136), Han Solo (In Carbonite Chamber), Hasbro, Jabba's Palace Adventure Set, Kenner, Ree-Yees (VC137), Return Of The Jedi, Star Wars Episode VI: Return Of The Jedi, The Power Of The Force, The Vintage Collection, Walmart Exclusive