Tag Archives:
Force Link Starter Set
Wo! Back it up! Back it up! Beep! Beep! Beep! JTA reader and good friend Mario M. sends us proof that the Toys R Us exclusive Force Link Starter Set with First Order Stormtrooper Executioner and Elite Praetorian Guard has been found in CA despite its December 2017 release date. I wonder if those online pre-orders will soon start charging now!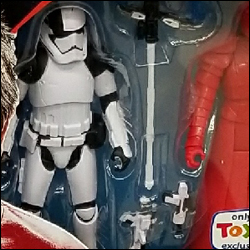 I personally found the original Force Link Starter Set a bit lackluster and overpriced at launch (although I enjoy the technology itself), but the lower price point of anywhere from $21-24 made it more tolerable (especially with that $10 off coupon). The TRU Exclusive Force Link Starter Set was a bit more 'exciting' with the Executioner and Praetorian Guard, but JTA reader Matt sent in this new Force Link Starter Set he found in Hong Kong with Luke, Rey, Rose, and FO Stromtrooper Officer and I think this is the right direction. Of course, not EVERYONE wants a larger set of figures or wants to spend the extra cash, but I like the different tiers of Starter Sets (even more so if the coupon works for them all!). Will we see this in the US? Maybe. Have you encountered this set yet? Let us know!
UPDATE: Matt made a mistake, this does NOT include a Force Link. So it is not a Force Link Starter Set, but more of a Force Link Figure Set. Sorry for the confusion! This will be exclusive to Kohl's in October here in the USA.

Today we are going to kick off a week-long run of Star Wars [The Last Jedi] updates. First up is the all-new Force Link Starter Set with Kylo Ren. Click below to check out the full Visual Guide. Make sure to also check out our complete review of this set.
The Force Link Starter Set/Kylo Ren pack is a whole lot of fun. See why you should give it a chance in our Research Droids Reviews today! We thank Litzky PR and Hasbro for providing us with our review sample today! Be sure to leave your own thoughts in our comments section, vote in the poll or even leave comments about it on our Facebook page. Click the banner below for the direct link to the review! As always, you can also send your own personal review requests via email if you'd like to see something that we didn't cover yet.
We and others like our readers have noticed a price reduction for the Force Link Starter Set. We're wondering how widespread this is and if you've seen this as well in your area. This is certainly a step in the right direction as $29.99 was just not a fair MSRP for this. Special thanks to General Hux for the image.
You can now pre-order Toys R Us' exclusive Force Link set which includes an exclusive Praetorian Guard and First Order Stormtrooper Executioner figures for $34.99. It has a December 29, 2017 availability date and ships for free since it meets their $29.99 order threshold. Special thanks to JTA reader Geofrrey E. for the alert! (P.S. Did we even know about this thing?)
When the MSRP was revealed for the Force Link Starter Kit, collectors gasped. Well, how about saving $10 to help that MSRP go down a bit? There is a promotion going on right now through December 31, 2017 where you can get a $10 off coupon when you buy specially marked General Mills products. This display was found at Walmart by JTA reader Craig F.
-Click HERE to return to the home page-