Tag Archives:
EV-9D9
Let's continue to move forward with JTA's The Power Of The Force "2" Silver "Jubileap" Next up is EV-9D9. It's a solid figure but desperately needs an update. It was also a carried-forward into the Freeze Frame Action Slide line! See more in our Research Droids Reviews today! Be sure to leave your thoughts in our comments section, vote in the poll or comment about it on our Facebook page. Click the banner below for the direct link to the review! As always, you can also send your review requests via email if you'd like to see something that we didn't cover yet.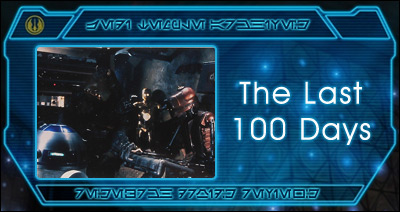 EV-9D9 • The Power Of The Force • 1985
Welcome to another one of our JTA Presents: Evolutions features! Let's check out how close or far we are from having an ideal Hasbro 3.75″ EV-9D9 action figure. Have we arrived at definitive status yet? Weigh in and let us know what conclusion you'll come to by clicking through and adding your two cents in the comments!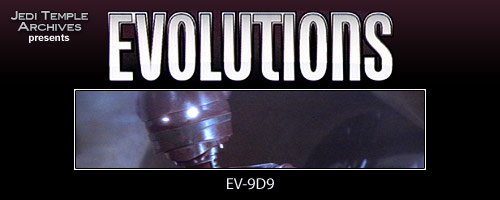 We're done! It's hard to believe, but our "The Final Countdown" marathon of the Star Wars Series 8 Vintage Kenner Mini Action Figures has concluded. If you need to catch up on any of them, all you need to do is click any thumbnail below, and it will take you to the archive. We'd once again like to thank you for your participation.
Be sure to come back in a couple of days for the complete vintage Kenner recap, a thank you, and an important announcement.
The Final Countdown (Vintage Kenner The Power Of The Force Series 8)
Posted in
Research Droids Reviews News and Updates
Tags:

3.75" Action Figures, A-wing Pilot, Amanaman, Anakin Skywalker, Artoo-Detoo (R2-D2) with pop-up Lightsaber, Barada, Battle Of Carkoon, Battle Of Endor, Battle Of Yavin, EV-9D9, Han Solo (In Carbonite Chamber), Imperial Dignitary, Imperial Gunner, Kenner, Landol Calrissian (General Pilot, Luke Skywalker (Imperial Stormtrooper Outfit), Luke Skywalker (In Battle Poncho), Romba, Star Wars Episode IV: A New Hope, Star Wars Episode VI: Return Of The Jedi, Warok, Yak Face
DON'T FORGET TO CLICK THE COIN! We have less than ONE WEEK left of vintage Kenner figures! Let's move right along with our uninterrupted run of the final wave of vintage Kenner figures which we're calling "The Final Countdown." These 15 action figures make up Kenner's THE POWER OF THE FORCE series 8 figures. The EV-9D9 "torture droid" figure is next in our Research Droids Reviews today. Be sure to add your own experiences to the conversation! Reminisce your own childhood stories of this figure in our comments. Share your life-changing vintage Kenner adolescent experiences with us!
-Click HERE to return to the home page-