Tag Archives:
Entertainment Earth Exclusive
This post contains affiliate links. At no additional cost to you, JTA may receive a commission if you click and make a purchase.
The Entertainment Earth Exclusive Jumbo Grand Moff Tarkin Jumbo Vintage Kenner Figure, inspired by events in Star Wars: A New Hope, represents the latest in a series of Jumbo action figures spotlighting the entirety of the Star Wars saga. Featuring classically styled sculpting, etails, and including a removable command staff, this poseable figure is styled to resemble the Star Wars figures of old, but at an epic 12-inch scale. It is manufactured to exacting standards, and comes packaged in a resealable clamshell blister card.
We are adding the Entertainment Earth exclusive Electrostaff Purge Trooper (VC195) to our Visual Guides tonight. Click below to check out the full Visual Guide. You can also read all about this figure right here in our review database.
It's time to look at the Entertainment Earth exclusive The Vintage Collection Electrostaff Purge Trooper figure. It's a bit boring. How many will you purchase? (more….)
The last Ross exclusive was the Red Squadron A-wing. Are you ready for another? The once Toys R Us, turned Entertainment Earth then cancelled exclusive C-3PO and R2-D2 2-pack showed up at one of my local Ross stores in Mesa, AZ. It's been available on Amazon for some time, but you can potentially get it for only $7 at Ross. Can we just send all the exclusives there so I can get them on the cheap? Check out our review of this nicely painted 2-pack here.
We are adding the C-3PO/R2-D2 Two-Pack to our Star Wars [Solo] Visual Guide tonight. Click below to check out the complete Visual Guide. Make sure to also click through and read our full review. And, if you've been waiting for this set, this is now available for pre-order over at Entertainment Earth. Secure a set now!
We have Canadian TRU Exclusive/Entertainment Earth Exclusive The Last Jedi multipack from Star Wars [Solo] as our Visual Guide update tonight. Click below to check out this set. You can also read all of the details on this exclusive set right here in our review database.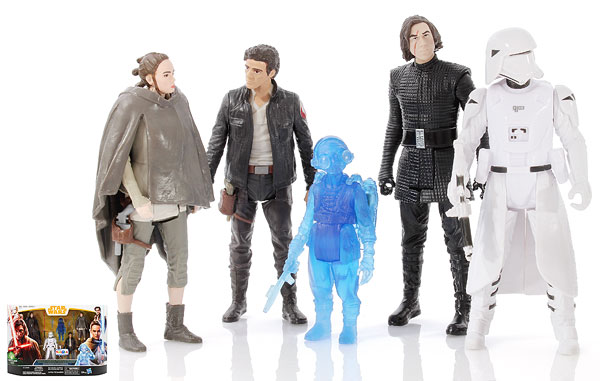 The only thing worse than another Maz Kanata figure is a holographic one. Or is it? (Hey, at least we get to see what the Force Link 2.0 chip looks like now.) See why the former Toys R Us exclusive (in the USA) Star Wars [Solo] Kylo Ren/Holographic Maz Kanata/Rey (Island Journey)/First Order Snowtrooper/Captain Poe Dameron multipack, now an Entertainment Earth exclusive, may not be a hit. Learn more in our Research Droids Reviews today! Be sure to leave your thoughts in our comments section, vote in the poll or even comment about it on our Facebook page. Click the banner below for the direct link to the review! As always, you can also send your review requests via email if you'd like to see something that we didn't cover yet.
-Click HERE to return to the home page-