Tag Archives:
Death Star Droid
Hasbro did collectors of The Vintage Collection no favors with the announcement of the Death Star Droid. It STILL doesn't reflect the modern counterpart of the on-screen character, because, well, it's a modern counterpart to the Kenner figure only. (more….)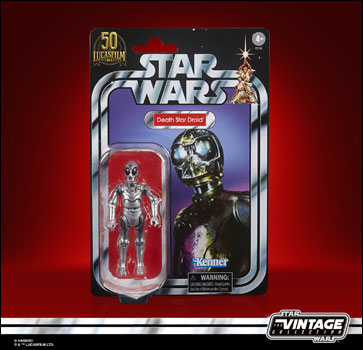 In 1984, the new packaging design for Star Wars figures was introduced for the European market. A cost containment initiative, the new packaging sported three languages of the Return Of The Jedi logo for a "one size fits all" approach. Although a "three-logo" design was created for The Power Of The Force line (as evidenced on some 'boxed' toys), it wasn't carried over to the basic figure line's card design. They continued to use the three Return Of The Jedi logos instead. Although the word "Trilogo" is found nowhere on the packaging, the term is universally adopted by all Star Wars collectors to describe this line of figures.
Today we revisit Death Star Droid. The Trilogo card art doesn't vary much from the original Kenner card image. The review's Collector Notes are updated with this information. See the full card art and additional notes by revisiting 1979's STAR WARS Death Star Droid figure HERE.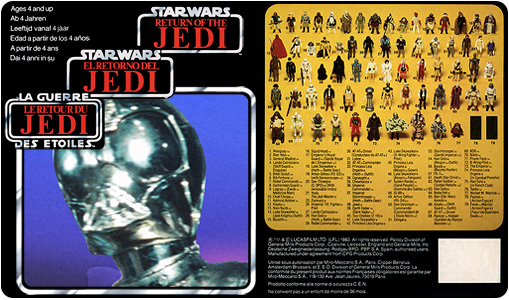 Death Star Droid • Star Wars • 1979
Thank you for making our "Droids And Creatures + Two Main Features" look at the vintage Kenner Series 2 figures (the 20/21-Backs) another success. The stories you're all sharing in addition to the priceless photos you're adding to the comments are some of the greatest things we have experienced here to date. Keep them coming! If you need to catch up on any reviews, please click any thumbnail below to be taken to the STAR WARS archive.
Next up is the vintage Kenner Death Star Droid figure. This is another great droid for the STAR WARS line, but is it supposed to be the droid from the Jawa sandcrawler, or the one from the Death Star? Relive your memories of the original Kenner Star Wars figures with other collectors in our Research Droids Reviews today. Be sure to add your own experiences to the conversation! Reminisce your own childhood stories of this figure in our comments. Share your life-changing vintage Kenner adolescent experiences with us!
May is over and we finished the 12-Back vintage Kenner collection. But June is Droids And Creatures Plus Two Main Features month at Jedi Temple Archives! You guessed it! We will be looking at the 20/21-Backs that augmented an already fantastic Series 1 collection of Kenner Star Wars figures. Come with us as we look at Cantina denizens and droid prisoners in addition to a main hero and cool villain. June is going to be a blast!
Entertainment Earth now has the Funko Pop Death Star Droid and Young Jyn Erso now in stock! That Death Star Droid looks pretty awesome.
-Click HERE to return to the home page-