Tag Archives:
CT-7567
They know what you did last week. And apparently they know a whole lot more. JTA reader "Sneaky Snake" tried to circumvent the system and order FOUR (4) Clone Captain Rex figures and Hasbro Toy Shop did their order analysis and thwarted his efforts. Click through for the exchange.
JTA sponsor Empire Toy Shop wants our readers to know about some really cool things! EmpireToyShop.com has Wave 13 in stock and shipping now! *Special Captain Rex Promotion: All Wave 13 Customers get a free raffle entry to win a Captain Rex Exclusive.*
You can also Pre-Order 40th Wave 2 now on the site! International customers can order by emailing direct: [email protected]. See all the in stock Star Wars items here:
LINK: https://www.empiretoyshop.com/collections/star-wars-black-series-6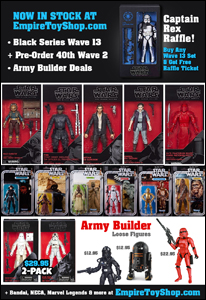 At first I thought my bizarrely packaged Clone Captain Rex was just a victim of getting crop-dusted by my good friend Chris Swanski of BanthaSkull.com fame during HASCON, but I am now seeing more occurrences of this strange phenomenon and I don't think Chris has that much far reaching power. Have any of our readers experienced this strange, strange thing with their Clone Captain Rex figures from HASCON? It looks like we have "Meltgate" now folk if this is a common occurence!
It's hard to believe, but the HASCON exclusive Clone Captain Rex hasn't budged that much on eBay as far as what it is commanding, despite being available for nearly 45 minutes on Hasbro Toy Shop today. The question is how low will he go?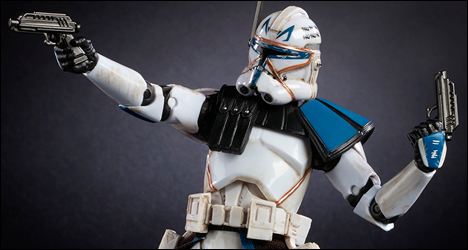 Are you ready for the madness today? Jedi Temple Archives along with your other favorite Star Wars fan sites will be posting up-to-the-minute live links for this highly coveted Clone Captain Rex HASCON exclusive figure. Remember that this HASCON exclusive is exempt from any PROMO codes or offers and you should probably make sure you can get into your HasbroToyShop.com account right now,
Let's take a look at the The Black Series [Phase III] HASCON exclusive Clone Captain Rex 6 inch figure, today's Visual Guide update. Click below for a full look at our guide page, and read our full review of this figure right here. Special thanks to Bret from Banthaskull.com for helping me out with the accessory images for this guide.
If Bantha Skull is done with their "n-1" attack tactics, we'd like to present our readers with a thorough look at the HASCON exclusive The Black Series [Phase III] Clone Captain Rex figure in our Research Droids Reviews today! Be sure to leave your own thoughts in our comments section, vote in the poll or even leave comments about it on our Facebook page. Click the banner below for the direct link to the review! As always, you can also send your own personal review requests via email if you'd like to see something that we didn't cover yet.
-Click HERE to return to the home page-