Tag Archives:
Coruscant Guard
Our next The Black Series [Phase IV] Visual Guides update features the Walmart exclusive Imperial Clone Shock Trooper (TBB07), as seen in The Bad Batch. Click below for complete details in our Visual Guide, and click here to check out our full review.
Want to see your action figure photography represented in this Visual Guide? Click here for details and send us your submissions!
The Walmart exclusive The Black Series [Phase IV] Imperial Clone Shock Trooper (TBB07) figure looks good. It's not too exciting, but does that matter? (more….)
This post contains affiliate links. At no additional cost to you, JTA may receive a commission if you click and make a purchase.
Hot Toys announced their sixth scale The Clone Wars Coruscant Guard. Click here for the full gallery, and click here for the pre-order page. 
Welcome to another one of our JTA Presents: Evolutions features! Let's check out how close or far we are from having an ideal Hasbro 3.75″ Senate Guard [Episode I/Episode II] action figure. Have we arrived at definitive status yet? Weigh in and let us know what conclusion you'll come to by clicking through and adding your two cents in the comments!
Our "Jabba Don't Preach" marathon continues with a universally adored character: the Emperor's Royal Guard. There's still no modern figure quite like it. Relive your memories of this classic 1983 action figure in our Research Droids Reviews today. Be sure to add your own experiences to the conversation! Reminisce your own childhood stories of this figure in our comments. Share your life-changing vintage Kenner adolescent experiences with us!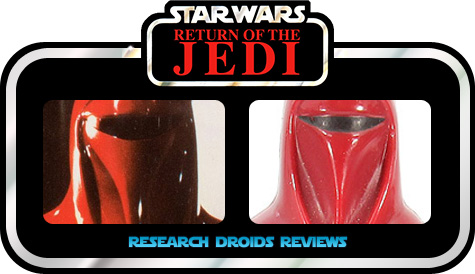 -Click HERE to return to the home page-