Tag Archives:
Commander Cody
LEGO has two new helmets up for pre-order.  Captain Rex (75349) and Commander Cody (75350) are both available to pre-order on Amazon.
Update: Princess Leia (Boussh) Helmet has also been announced, but the pre-order page on LEGO's web site is not currently live.
Commander Cody is featured on the next The Bad Batch character poster. Click below to check it out!
This post contains affiliate links. At no additional cost to you, JTA may receive a commission if you click and make a purchase.
The next two cards from the weekly Topps Star Wars Living Set are now out. Featuring the iconic blue starfield and the impressive artwork of Kris Penix, check out Bo-Katan Kryze (#165) and Commander Cody (#166). Each Tuesday, two new cards will be released and be only available for one week. Click here to view the entire Star Wars Living archive, including individual print runs.
We finally get OOM-10 in the Fan Channel exclusive Galactic Republic Celebrate The Saga multipack. But it's a crappy 5POA version. It's maddening! (more….)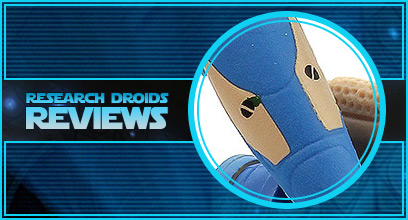 Thank you for reading Research Droids Reviews: Season 12!
Posted in
Research Droids Reviews: Season 12
Tags:

3.75-inch 5POA, 501st Legion Trooper, Battle Droid Commander, CC-2224, Celebrate The Saga, Clone Commander Cody, Clone Trooper (Phase I), Commander Cody, Fan Channel Exclusive, Galactic Republic, Hasbro, OOM-10, Phase I Clone Trooper, Shock Trooper, Vader's Fist
Hot Toys announced a brand new Commander Cody figure earlier today! His tentative release date is Q1 or Q2 2020, so plan ahead! This Cody comes with an unmasked head, an alternative helmeted sculpt plus various accessories. You will get the usual hands, various blasters, a jet pack which can be magnetically attached, plus the obligatory stand. You will also get light up holograms of Palpatine, Obi-Wan, Yoda and an Airborne Trooper, which Cody can hold in his hand.
Check out many more photos on the official Hot Toys website!
There are plenty of new reveals today for the Sideshow Collectibles Online Comic-Con event, including many new Hot Toys Sixth Scale figures. It looks like Hot Toys has entered the Clone Trooper market with Commander Cody and the Airborne Trooper. Click below to check out all of the figures on their preview page, including Princess Leia (Bespin Outfit), Range Trooper, Mimban Stormtrooper, Jango Fett, two versions of Chewbacca, and an R2-D2 packed with tools!
Funko announced their Wave 1: Star Wars San Diego Comic Con 2017 Pop! Exclusives, and it looks like there might be something for everyone! Just look at that Super Sized glow-in-the-dark Snoke. Click through to see them all.
 Pop! Star Wars: 6″ Supreme Leader Snoke (Glow-in-the-Dark)
-Click HERE to return to the home page-