Tag Archives:
Cloud Car Pilot
Welcome to another entry in our The Vintage Collection: The Ninety Six column. Hasbro recently committed to collectors that they will be "focusing" on characters in The Vintage Collection that fall under "The Ninety Six" banner. If you're new to this, it means that there needs a modern counterpart for every classic Kenner figure. Between 2020 and 2021, Hasbro's made an admirable effort by focusing on these characters. But there is more work to be done, and we'll figure out where we are step by step. Today we assess (Twin Pod) Cloud Car Pilot.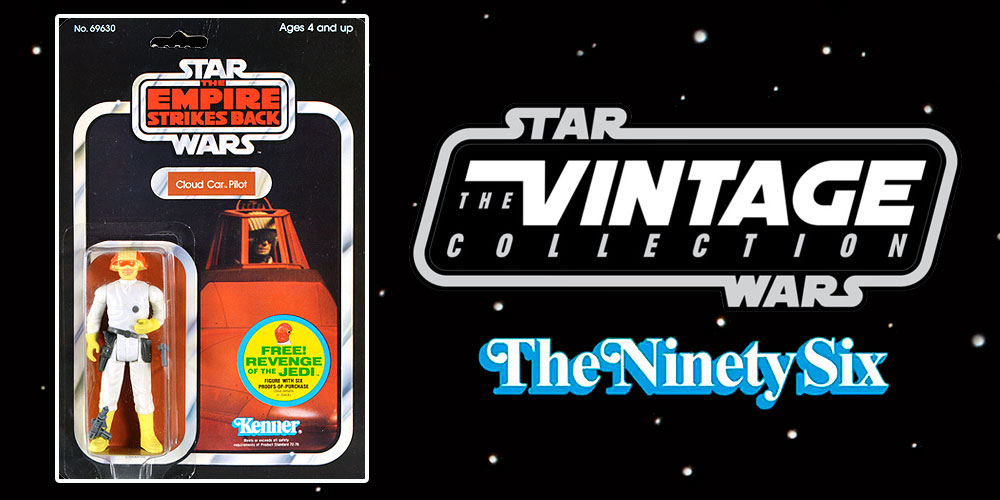 In 1984, new packaging for Star Wars figures was introduced for the European market. A cost containment initiative, the new packaging sported three languages of the Return Of The Jedi logo for a "one size fits all" approach. Although a "three-logo" design was created for The Power Of The Force line (as evidenced on some 'boxed' toys), it wasn't carried over to the basic figure line's card design. They continued to use the three Return Of The Jedi logos instead. Although the word "Trilogo" is found nowhere on the packaging, the term is universally adopted by all Star Wars collectors to describe this line of figures.
Today we revisit (Twin Pod) Cloud Car Pilot. It didn't come in standard Trilogo packaging. Instead, it was packaged in what the collecting community deems as "Trilogo Hybrid" packaging. The card front is nearly identical to the Kenner Return Of The Jedi Cloud Car Pilot figure, while the back features the Trilogo logo and figure group shot. The review's Collector Notes are updated with this information. See the full card art and additional notes by revisiting 1982's THE EMPIRE STRIKES BACK (Twin Pod) Cloud Car Pilot figure HERE.
(Twin Pod) Cloud Car Pilot • The Empire Strikes Back • 1982
We are starting a new category of updates for our Visual Guides featuring modern updates to our older, outdated Visual Guides into our newer, cleaner, hi-resolution format. Our standard updates will focus on items that don't previously exist in any Visual Guide format, while these new updates will rebuild our old guides. Our first Visual Guide Rewind features the last two Expanded Universe Vehicles from 1998. Click below to check out updates for both the Airspeeder and Cloud Card. Make sure to check out the Research Droids Reviews for these as well.
We're looking at the incredible 1998 Expanded Universe line. All of the basic figures are completed, but we never got to the "concept art" vehicles. Let's continue with the Ralph McQuarrie-partially-inspired Cloud Car (with exclusive Cloud Car Pilot). This fantastic line STILL looks excellent today. Learn more in our Research Droids Reviews today! Be sure to leave your thoughts in our comments section, vote in the poll or even comment about it on our Facebook page. Click the banner below for the direct link to the review! As always, you can also send your review requests via email if you'd like to see something that we didn't cover yet.
Our "Pilots, Commanders And Droids! Oh My!" marathon of the Star Wars Series 5 Vintage Kenner Mini Action Figures has concluded. This also means we've completed all of Kenner's The Empire Strikes Back figures. If you need to catch up on any of them, all you need to do is click any thumbnail below, and it will take you to the archive. We'd once again like to thank you for your participation. Recounting all of your childhood memories with these unequaled action figures and sharing the wonderful experiences you've all had with them is priceless. Please keep adding to the discussions! Also, please begin to prepare yourselves for more as we dive into October's "Jabba Don't Preach" marathon where we look at the Series 6 figures. These reviews will focus on 17 Kenner action figures from the first wave of the Return Of The Jedi line and we're very excited to tackle them.
Posted in
Research Droids Reviews News and Updates
Tags:

(Twin Pod) Cloud Car Pilot, 3.75-inch Action Figures, 4-LOM, AT-AT Commander, Battle Of Hoth, Bespin Security Guard, Bounty Hunter, C-3PO (Removable Limbs), Cloud Car Pilot, Cloud City Wing Guard, General Veers, Imperial TIE Fighter Pilot, Kenner, Luke Skywalker (Hoth Battle Gear), Luke SKywalker (Hoth Outfit), The Empire Strikes Back, Zuckuss
Our "Pilots, Commanders And Droids! Oh My!" marathon continues with the (Twin Pod) Cloud Car Pilot figure. It's one of the Kenner's finest accomplishments. Oh, and we still don't have an accurate modern counterpart. Relive your memories of this classic 1982 action figure in our Research Droids Reviews today. Be sure to add your own experiences to the conversation! Reminisce your own childhood stories of this figure in our comments. Share your life-changing vintage Kenner adolescent experiences with us!
-Click HERE to return to the home page-