Tag Archives:
clone commando
Several Walmart exclusives are once again in stock and available to order. Click below for direct links. Thanks to JTA reader Jon for the alert!
Update: Tech (Mercenary Gear) Is also available
Walmart.com has also added The Black Series Clone Commando pre-order again. Click through for the pre-order page. Thanks again to Jon for the heads-up!
Up next for our Visual Guide updates is wave 4 from The Black Series [Phase IV]. Click below to check out Crosshair (TBB02) from the upcoming The Bad Batch series. You can also read our full review of this figure right here.
The latest wave of The Black Series [Phase IV] figures is hitting, and they're all mostly incredible. Let's check out Crosshair, a leader of Clone Force 99, and part of The Bad Batch. (more….)
This week, EA games announced (finally) that they would be adding instant action to Battlefront II. That's the best part of the old Battlefront games in my humble opinion, so I'm extremely excited for the addition to the new games. Now I just need an Xbox One or a gaming PC….. Anyway. The other new addition to the game are Clone Commandos. With Clone Wars on its way next year on Disney+, it got me thinking: Hasbro really needs to make an all-new clone commando in TVC and TBS and re-use the heck out of it with different color schemes. Click through for a review on the clone commando figures we've gotten thus far!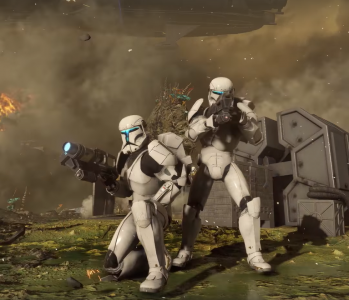 -Click HERE to return to the home page-