Tag Archives:
Clone Commander Cody
Here is The Black Series Archive Clone Commander Cody. What a disappointment! (more….)
This post contains affiliate links. At no additional cost to you, JTA may receive a commission if you click and make a purchase.
Walmart has the latest wave of The Black Series Archive figures listed on their web site. This wave sports the gold 50th Anniversary Lucasfilm LTD logo. As of this posting, only Luke and Han are in-stock. Click below for direct links!
We finally get OOM-10 in the Fan Channel exclusive Galactic Republic Celebrate The Saga multipack. But it's a crappy 5POA version. It's maddening! (more….)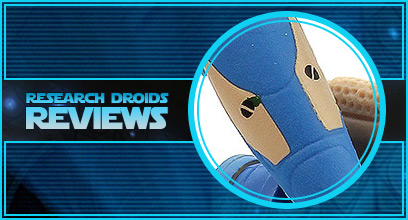 Thank you for reading Research Droids Reviews: Season 12!
Posted in
Research Droids Reviews: Season 12
Tags:

3.75-inch 5POA, 501st Legion Trooper, Battle Droid Commander, CC-2224, Celebrate The Saga, Clone Commander Cody, Clone Trooper (Phase I), Commander Cody, Fan Channel Exclusive, Galactic Republic, Hasbro, OOM-10, Phase I Clone Trooper, Shock Trooper, Vader's Fist
We're thrilled to present you with a sneak peek of the latest wave of The Black Series [Phase III] 6″ figures. Wow. What a wave! In addition to three fabulous The Rise Of Skywalker characters, we get a long-awaited Count Dooku and Clone Commander Bly, both of which are fantastic as well. Clone Commander Bly utilizes old tooling, but Hasbro did a good job as disguising that. Count Dooku will enrage longtime 3.75″ collectors. Why in the world do we not have a quality Count Dooku figure like this in our collections yet, Hasbro? Count Dooku comes with an all-new widened lightsaber blade attachment. Zorii Bliss is another incredible addition. The figure's mask is removable and displays a beautiful visage of Kerri Russell. The Knight Of Ren is excellent. But these characters lost their luster a bit after Episode IX. Still, Hasbro should be commended. Will we ever get them all. Sith Jet Trooper may only be a repaint, but its sculpt is underrated. And the figure works beautifully in this color too. The reviews are coming shortly, but you can enjoy rough galleries now. More images coming soon!
Posted in
Research Droids Reviews News and Updates
Tags:

6-inch The Black Series Action Figures, Battle Of Felucia, Battle Of Geonosis, Clone Commander Cody, Count Dooku, Hasbro, Knight of Ren, Order 66, Sith Jet Trooper, Star Wars Episode II: Attack Of The Clones, Star Wars Episode III: Revenge Of The Sith, Star Wars Episode IX: The Rise of Skywalker, The Black Series [Phase III], Zorii Bliss
We have a couple of items to blow through to complete our The Clone Wars [Blue] archive. Let's start with Clone Commander Cody Vs. Battle Droid. We didn't need this Two-Packs set at all. Learn more in our Research Droids Reviews today! Be sure to leave your thoughts in our comments section, vote in the poll or even comment about it on our Facebook page. Click the banner below for the direct link to the review! As always, you can also send your review requests via email if you'd like to see something that we didn't cover yet.
Hurry! The Walgreens exclusive Clone Commander Cody Funko Pop! is IN STOCK!
-Click HERE to return to the home page-