Tag Archives:
China
According to a story by the Hollywood Reporter Disney has struck a deal with Tencent's "China Literature" platform, which is the largest e-book and online reading platform in  China.
As part of the deal 40 Star Wars books will be translated into Chinese for the first time, but the deal includes one more, much more important thing. Click through to read more!
Prepare for rising toy prices. In a statement to CNBC Hasbro said this today:
"These measures, if they go through, will substantially impact American consumers, including their ability to gift quality toys to their children during the holidays," Hasbro told CNBC Friday. "If the proposed tariffs are put in place, Hasbro will have no choice but to pass along the increased costs to our U.S. customers by pricing our products to address the tariffs."
Yesterday, it was announced that a new 10% tariff will be imposed on an addtional $300 billion worth of imported goods from China. September, when the new tariffs will come into effect, is a very important month for shipping toys to the US for the holiday season. It remains to be seen if the 10% tariff will already affect toys sold on Triple Force Friday or if only future waves will be affected.
Will you buy the same number of releases as before if all Star Wars toys cost 10% more? TVC could be $13.99 or even $14.99, TBS could be $21.99. We will inform you as soon as Hasbro will release more concrete info on future pricing of Star Wars toys. 67% of Hasbro's toys are still made in China. There are ongoing efforts to shift production to countries with cheaper labor, like Vietnam or India.
CNBC has the story. It also goes into detail about what US toy companies are affected the most. Funko has already announced they will raise prices, however, by the end of the year up to 70% of their products will already be made outside China. Mattel may face serious problems, contrary to Hasbro, who don't actually own the factories and can outsource production to any other country somewhat more easily, Mattel owns about 50% of the factories, so it's much more costly to move production. However, most Barbie dolls and Hot Wheels toy cars are manufactured outside of China, and these are the two most important Mattel brands.
When you comment please leave out politics, or names of politicians (or nicknames of politicians), just discuss what rising prices would mean for you and your collecting habits. We will delete posts that are off topic.
The Trump Administration has announced to suspend the planned tariffs for "list 4" goods made in China – at least for the time being. Tariffs would have been 25% and "List 4" goods would have included toys and video games (including consoles). Several representatives of the toy industry made trips to Washington in recent times in order to change the opinion of President Trump. It seems to have worked for now. So fans of action figures or video games and consoles can relax a bit. Star Wars action figures will not get more expensive any time soon, or at least not because of tariffs.
Read the full story on io9.
There seems to be the common belief that Star Wars is not doing all that well at the box office outside North America. The struggle and failure of Star Wars at the Chinese box office has been much discussed. But how do the movies actually perform outside North America? And how does Star Wars compare to other modern day blockbusters, from the MCU and other franchises? You may be somewhat surprised by the results! So click through for a closer look at Star Wars at the foreign box office!
Posted in
General News
Tags:

Australia, Brazil, China, Disney Star Wars, Foreign box office, France, Germany, Japan, Mexico, Russia, South Korea, statistics, UK, USA
Chinese factory workers producing toys for Hasbro, Disney, Lego and Mattel and are being subjected to "nightmare" working conditions in the run-up to Christmas, an investigation has alleged.
The report, titled "A Nightmare for Workers," shows findings from campaign groups China Labor Watch, ActionAid, CiR, and Solidar Suisse, who sent undercover investigators to four factories that produced toys sold at Walmart, Costco, Target and other international retailers. (more….)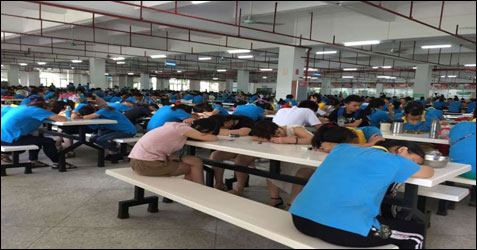 It must be exhausting making all of that 5POA crap!
The USA and China are currently engaged in a trade war, it's not the taxation of trade routes to outlying star systems that is in question, the US administration is of the opinion that China is taking unfair advantage of free trade, so more and more imported goods from China are subject to trade tariffs. What would happen should the US administration impose a 25% tariff on virtually anything produced in China? Including toys? How would and could Hasbro react? What effects would consumers feel and what scenarios are there? Click through for details!
Although The Last Jedi has continued to perform well at the US box office, the film collapsed in China and has already been pulled from Chinese theaters. Star Wars has never had a strong foothold in China, the world's second largest film market, but an already disappointing opening weekend followed by a disastrous second weekend drop of 92% sealed the film's fate in China. To put things in perspective, The Last Jedi will finish outside of the top 50 in China and behind box office bomb Geostorm. The Hollywood Reporter did a great job of examining the continued failure of Star Wars in China. The problem stems from the well known fact that the original films never received a wide release in China. While franchises such as Fast and Furious focus on ease of access and mindless action, Star Wars films are often driven by nostalgia for and references to the original films. Jimmy Wu, who owns one of the largest theater chains in China, bluntly told The Hollywood Reporter, "Star Wars has no legacy here." It is an interesting situation, and one that probably has some Disney executives concerned. Check out the full story at The Hollywood Reporter!
-Click HERE to return to the home page-