Tag Archives:
Charles Soule
The all new "High Republic" book series was meant to launch this year, but Charles Soule's flagship title "Light of the Jedi" has been delayed until January 2021 because of the current pandemic. But to whet the appetites of fans IGN released the first chapter of Soule's "Light of the Jedi" and it has also been revealed what kickstarts the events of the new series. Click through for more details!
As we wait for the first official news of Project Luminous tonight (supposedly), we got our first look at where we will be heading. Charles Soule, writer of many of the best modern Star Wars comics, will deliver his first full Star Wars novel The High Republic: Light of the Jedi. There are also some other as-of-yet untitled Project Luminous titles listed on the Random House site, but this cover has gotten me pretty excited. Hopefully, this announcement will give us some amazing new content to look forward to. As a fan of the comics and novels, I'm personally excited to read a Charles Soule novel about a completely new era in Star Wars history, but I am also anxious to see where this goes in film/tv. Are you looking forward to moving outside of the Skywalker Saga? Let us know!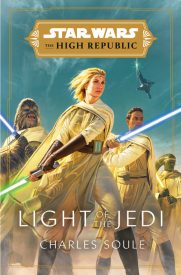 Recently, I shared my review on the new Marvel Darth Vader comic which is written by Charles Soule. I thought it was a fantastic start to a new series that explores an area of Darth Vader we have yet to see and are eager to see; his first steps as the mechanical, maniacal apprentice of Emperor Palpatine. In a recent interview with Marvel.com, Charles shared his thoughts on the Emperor, Darth Vader, and where this comic series is going.
-Click HERE to return to the home page-