Tag Archives:
Charity
As part of their 2021 Summer Social, The Georgia Alliance of Star Wars Collectors (GASWC) has a very special item this year to benefit Children's Healthcare of Atlanta thanks to our special guests from Kenner and Hasbro!
Hasbro 2005 re-release Early Bird Certificate package signed by :
Jim Swearingen (Kenner conceptual design)
Craig Stokely (Kenner licensing & marketing)
Tim Effler (Kenner design)
Douglas Miller (Kenner design)
Kim Simmons (photography)
Tom Clark (Kenner marketing)
Derryl DePriest (Hasbro President of Global Brand Mgmt)
Click through for complete details on how to enter
A coalition of local churches will deliver hundreds of thousands of pounds of food to those in need through a new initiative called "Feed the Hope." The event will take place at more than 20 locations starting at 10 AM Saturday (tomorrow) in Trenton NJ/Philly PA areas. Click through for more.
The Peter Mayhew Memorial Foundation is selling a memorial challenge coin, with 100% of the proceeds going towards the Foundation. Click through for complete details and to secure one of these limited coins! And, there's a silver variant if that's your thing!
Peter Mayhew passed away on April 30th, 2019.  The Peter Mayhew Foundation was Peter's passion for helping others in the form of a 501(c)3 Non-Profit Organization that helped alleviate suffering in all its forms.  From helping families struggling to receive a life saving transplant, to aiding animal rescues with the funds needed to care for abandoned animals and make them ready for adoption.  Angie Mayhew, Peter's wife, now takes up the mantle of Executive Director of the Foundation and will continue to deliver on Peter's moral imperative to help those in need.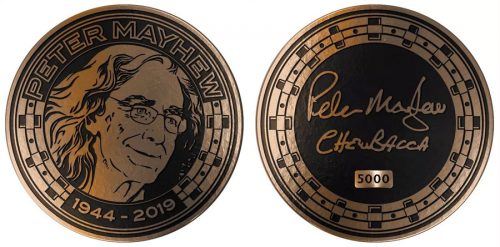 The Pennsylvania Star Wars Collecting Society (PSWCS) and The ARC of Pennsylvania have teamed up to produce Luke Skywalker charity medallions, which are now available to purchase. This exclusive collectible has a limited run, so be sure to get yours today. Each medallion is $12.50 shipped in the US (international shipping available) and all proceeds benefit The ARC of Pennsylvania.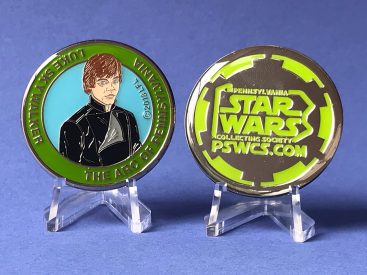 -Click HERE to return to the home page-