Tag Archives:
Bring Home The Bounty: Bonus Bounties
Bonus Bounties comes early as Hasbro announces The Vintage Collection Boba Fett (Morak). It seems the Deluxe line is now officially an excuse to charge $26.49 for a figure that comes with "4 entertainment-inspired accessories". Nevertheless, you can pre-order this figure tomorrow starting at 1 PM Eastern. To be clear, this is not officially labeled as a "Deluxe" figure, but the price point is the exact same as the previous boxed Deluxe figures. 
Update: Several social media groups are reporting that this is a Target exclusive
Today, starwars.com revealed the newest product for Bring Home the Bounty. Included is a very nice-looking replica of Boba Fett's EE-3 blaster (specifically from The Book of Boba Fett).  It comes in at about 30″ long; about the length of the actual blaster. You can preorder this new collectible, perhaps to go along with your The Black Series helmets, here on Entertainment Earth.
The Pre-order page is now open for the Amazon exclusive The Black Series Boba Fett (Prototype Armor). Click here for access.
Note: It's now available to pre-order.
Today's The Black Series Boba Fett (Prototype Armor) will be available for pre-order tomorrow at 1 PM Eastern, and exclusive to Amazon. 
The first Bonus Bounties reveals the re-release of The Black Series Boba Fett (Prototype Armor). Pre-orders start tomorrow, January 5. Click here to see what else was announced this week.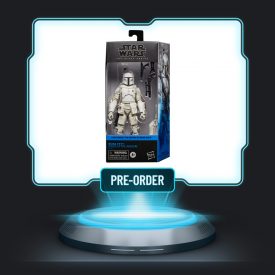 -Click HERE to return to the home page-