Tag Archives:
Bossk
Hasbro made some fantastic 12 Inch Figures during the Power Of The Jedi era of the toy line. Bossk is a decent release. See more in our Research Droids Reviews today! Be sure to leave your thoughts in our comments section, vote in the poll or comment about it on our Facebook page. Click the banner below for the direct link to the review! As always, you can also send your review requests via email if you'd like to see something that we didn't cover yet.

Bossk (Bounty Hunter) • The Empire Strikes Back • 1980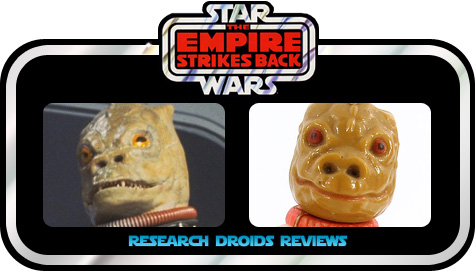 OK, let's get this party started! The reviews are coming soon, but you can check out crisp images of The Black Series Archives wave 1 figures right now in our RDRs. Most importantly, we have comparison pictures for each figure so you can decide which version of the figure looks better. Here is a quick rundown: Luke Skywalker is better, but not perfect. For one reason or another, the photorealistic paint job looks amateur at best, almost as if it's a trial run. He doesn't come with a beautiful application like recent figures. Boba Fett is much-improved. They finally updated his chest armor to the correct color. Amen, Hasbro! Bossk is almost identical to his first issue. But it's nice to see him again. In all honesty, IG-88 is a significant step backward. He's still feather-light, has too many holes in his head (that don't need to be carried forward in the action figure), and got a pretty bad paint job this time around. What's up with all of that gold? The reviews are coming soon, but check out everything else right now.
The new The Black Series Archive figures are starting to hit retail. JTA reader Walter found them at his local North Carolina Walmart…
I really enjoy your website. Tonight I was wrapping up some last minute shopping hoping to find the new Resistance figures or maybe even the latest Solo wave and came across this. The whole new archive black series wave was at my local Walmart in Greenville NC. Luke, Boba, IG-88, and this guy, who had to come home with me. They are out there!
Our "Some Like It Hoth" run of vintage Kenner reviews continues with another bounty hunter mail-away figure: Bossk (Bounty Hunter) from The Empire Strikes Back line. Let's check him out a little more closely. Relive your memories of this classic 1980 action figure in our Research Droids Reviews today. Be sure to add your own experiences to the conversation! Reminisce your own childhood stories of this figure in our comments. Share your life-changing vintage Kenner adolescent experiences with us!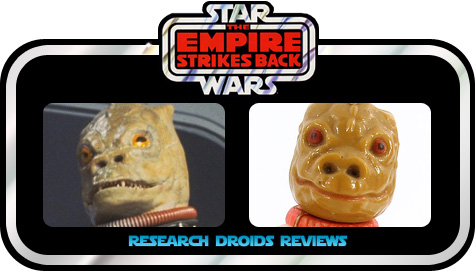 -Click HERE to return to the home page-