This post contains affiliate links. At no additional cost to you, JTA may receive a commission if you click and make a purchase.
You can pre-order the Best Buy exclusive AT-ST Raider set RIGHT NOW too!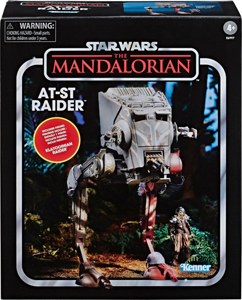 While the Triple Force Friday livestream event didn't mention the Vintage collection or showed a single Vintage Colleciton toy, Dark Side Toys posted a picture of the brand new upcoming AT-ST Raider from the Mandalorian series on their Facebook page!
Price is still unknown. Availability should be Force Friday, according to Dark Side Toys. The AT-ST comes with one figure.
Update: according to IGN, this set is a Best Buy exclusive!
Update 2: Click through for a few more official Hasbro glam shots, including a large photo of the figure!