Tag Archives:
Asajj Ventress
The latest wave of The Black Series [Phase IV] figures are hitting, and they're all mostly incredible. Asajj Ventress is another magnificent beauty. You'll never notice she is a kit-bashed figure. (more….)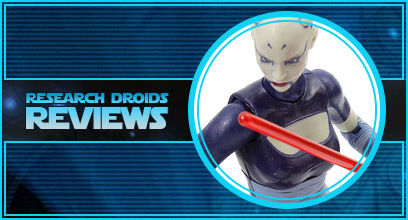 The Black Series Boba Fett, Hunter, Crosshair, and more are now available on ShopDisney. Thanks to JTA reader Jeff for the alert!
UPDATE: ALSO NOW ADDED:
First Order Short-Range Evacuation Vehicle – Star Wars: Galaxy's Edge (with 3.75″ astromech droid)
Hasbro Pulse live-streamed another Star Wars Fan First Friday this morning. All reveals go on sale at 1 PM Eastern. Here are today's reveals:
The Vintage Collection – Zutton
The Black Series – Asajj Ventress (TCW)
The Black Series – Hunter (TCW)
The Black Series – Crosshair (TCW)
Click through for some more photos!
This post contains affiliate links. At no additional cost to you, JTA may receive a commission if you click and make a purchase.
Sideshow has unveiled two beautiful new additions to their Mythos line with statues of Darth Sidious and Asajj Ventress. Check them out and RSVP to be notified when they go up for pre-order. And if you haven't yet, be sure to check out Sideshow's Geeksgiving going on right now with tons of giveaways and discounts on many things.
We have a few more "Commemorative DVD Collection" multipacks to get through before we change topics. Let's continue with the Clone Wars Sith Attack Pack from the original animated line. It's the focus of our Research Droids Reviews today! Be sure to leave your thoughts in our comments section, vote in the poll or even comment about it on our Facebook page. Click the banner below for the direct link to the review! As always, you can also send your review requests via email if you'd like to see something that we didn't cover yet.
-Click HERE to return to the home page-