Tag Archives:
Adam Driver
The Rise of Skywalker was nominated for three Academy Awards! Click through for all the details!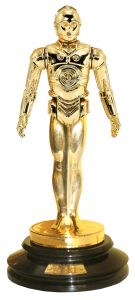 Last night the 91st Academy Awards were held in Los Angeles. Solo – A Star Wars Story did not win its only category it was nominated for, the best FX Oscar went to First Man instead. I would have given it to either Ready Player One or Avengers Infinity War, but I am not a member of the MPAA. Adam Driver also didn't get his golden statue, he lost to Mahershala Ali. Ben Burtt's son, whose name is also Ben Burtt (which caused much confusion here on JTA before), also didn't win for his sound mixing job for Black Panther. However, the composer for The Mandalorian series, Ludwig Göransson, did get an Oscar for his Black Panther score. Congratulations to him! And if you wonder where Kathleen Kennedy was: she and her husband Frank Marshall received their Irving Thalberg awards ("honorary Oscar" but the award is a golden bust of Irving Thalberg) last November already.
The nominees for the 2019 Academy Awards were announced. And Solo – A Star Wars Story received one nomination for best visual effects. Adam Driver is nominated as supporting actor for his role in BlacKkKlansman, also nominated in this category is Richard E. Grant, who will star alongside Driver in Episode IX. And yet another artist associated with Star Wars received a nomination: Ludwig Goransson is nominated for best score for Black Panther, he is the composer for The Mandalorian.
I believe Solo has zero chance of winning, that award will probably go to Avengers Infinity War or maybe Ready Player One. But maybe Adam Driver will actually be an Oscar winning actor once IX is released. let's hope he won't be struck by the Oscar curse then…
Will you be even watching the Oscars this year? The show seems to be more and more out of touch with time and general audiences. But maybe the Black Panther best picture nomination will attract some more viewers than last year.
Edit: The person called Ben Burtt nominated for sound editing for Black Panther is not THE Ben Burtt apparently, but someone who has the exact same name and works at Skywalker Sound.
Edit 2: Actually Ben Burtt Jr is the son of Ben Burtt. Who is also a "Jr", so apparently calling your son "Ben" is a time-honored Burtt family tradition. What a joy family gatherings must be!

-Click HERE to return to the home page-