Tag Archives:
A-wing Pilot
A-Wing Pilot • The Power Of The Force • 1985
Do you remember THIS HUGE SURPRISE from a couple of years ago that shockingly showed up online (as well as a few random loose figures at store locations)? The full case assortment doesn't even make an appearance on eBay anymore. How many of the couple hundred collectors who bought the complete set online still have their set? Hasbro denied that any were produced and released, yet a couple of hundred cases made its way to Calendars. It's a terrible shame this collection got canceled. It was home to the yet-to-be-released Clone Captain Rex and A-wing Pilot in addition to the Build A Droid R5-X2 and R8-B7. Wouldn't it be wonderful if Hasbro finally got all four of those remaining figures released one day? You can see all of the officially released Legacy Collection [2] figures in detail HERE.
Posted in

eBay, Hasbro
Tags:

3.75" Super-Articulated, A-wing Pilot, Aftermarket Values, Build A Droid, Captain Rex, Droid Factory, Hasbro, Legacy Collection [2], R5-X2, R8-B7
We're done! It's hard to believe, but our "The Final Countdown" marathon of the Star Wars Series 8 Vintage Kenner Mini Action Figures has concluded. If you need to catch up on any of them, all you need to do is click any thumbnail below, and it will take you to the archive. We'd once again like to thank you for your participation.
Be sure to come back in a couple of days for the complete vintage Kenner recap, a thank you, and an important announcement.
The Final Countdown (Vintage Kenner The Power Of The Force Series 8)
Posted in
Research Droids Reviews News and Updates
Tags:

3.75" Action Figures, A-wing Pilot, Amanaman, Anakin Skywalker, Artoo-Detoo (R2-D2) with pop-up Lightsaber, Barada, Battle Of Carkoon, Battle Of Endor, Battle Of Yavin, EV-9D9, Han Solo (In Carbonite Chamber), Imperial Dignitary, Imperial Gunner, Kenner, Landol Calrissian (General Pilot, Luke Skywalker (Imperial Stormtrooper Outfit), Luke Skywalker (In Battle Poncho), Romba, Star Wars Episode IV: A New Hope, Star Wars Episode VI: Return Of The Jedi, Warok, Yak Face
DON'T FORGET TO CLICK THE COIN! Only a few days remain for our exclusive look at the vintage Kenner figures! Let's move right along with the uninterrupted run we're calling "The Final Countdown." These 15 action figures make up Kenner's THE POWER OF THE FORCE series 8 figures. A-Wing Pilot is next in our Research Droids Reviews today. Be sure to add your own experiences to the conversation! Reminisce your own childhood stories of this figure in our comments. Share your life-changing vintage Kenner adolescent experiences with us!
Retailer ActionFiguren24 has put up for order what they're calling a Walmart exclusive Force Link A-wing Fighter and Pilot. Click through for the translation on their site. Special thanks to JTA reader Sven from Berlin for the alert!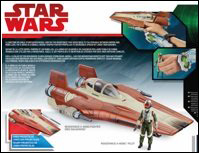 -Click HERE to return to the home page-