Tag Archives:
5POA
We are going back and filling in wave 1 in our Visual Guides from the Galaxy of Adventures line. First up is Chewbacca (The Copilot). Click below to check out the full guide page for this figure. Make sure to also go back and revisit this review and discussion right here in our review database.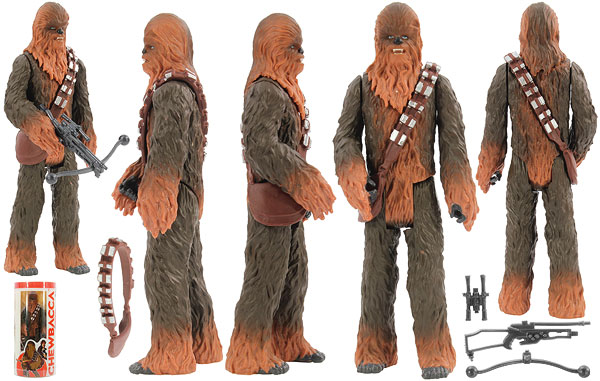 If you're still in need of this First Order Flametrooper to complete your TLJ line-up, it is only $7 on Amazon right now. Not too terrible for a trooper that can hold his weapon with both hands, although having joints would be much better!
Sigh. Let's look at the first wave of Galaxy Of Adventures. It's another line full of repacks. Aren't you excited? Let's begin with Chewbacca. He's the focus of our Research Droids Reviews today! Be sure to leave your thoughts in our comments section, vote in the poll or even comment about it on our Facebook page. Click the banner below for the direct link to the review! As always, you can also send your review requests via email if you'd like to see something that we didn't cover yet.

3.75″ Figures are making a comeback, but where are the droids? Just from the recent Solo trailers, there are a ton of droids that are completely worthy of a figure. Click through for more images.
Full Story
An interesting post popped up in my news feed with a photo of a new figure coming out tomorrow… The force link 2.0 Range trooper. Is that elbow and knee articulation I see?? Do mine eyes deceive me??!!
How many of these did Hasbro make? The last time we recall asking this question was in 2012 with the Star Wars [The Phantom Menace 3D] line which was a total and utter retail debacle. However, now it seems the same is becoming true for The Force Awakens line. Who would have thunk 5POA for a new Star Wars film WASN'T the way to do things? Huh! How about that? JTA reader Mark L. also chimes in with "My Five Below in Denton TX restocked all their SW figures so that means a whole new set of $4 (down from $5) unmasked Kylo, Resistance Rey, Nien Nunb and Squad Leader FO Troopers. Where are these coming from?" We'll probably be seeing the TFA 5POA figures for a VERY long time.
-Click HERE to return to the home page-