Are you in the mood for some Fantasy, Anime, Comics, Toys and Science fiction?
You better be as FACTS was up to its 20th edition during the weekend of 23 and 24 October 2010 and you just started on the Jedi Temple Archives coverage about it!
For the folks living in the Outer Rim: FACTS is a collectibles fair and meeting place for the terminally contaminated fans of all things cult. It is at the same time called, quite correctly, the biggest Science-Fiction convention in the entirety of the Benelux.
The FACTS convention took place once more in the city of Ghent (Belgium); the Flanders Expo Halls were the place to be for the second time around. If that wouldn't be your neck of the woods and you would like to visit a future con, you can find any and all information about the location here.

Every year, the FACTS organization invites a number of guest stars, who will spend their time at the convention socializing with their fans and selling autographs.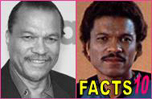 This year's guest list included Billy Dee Williams, better known to Star Wars fans as Lando Calrissian.
That means that the already impressive Star Wars Hall of Facts Visitors is being extended with yet one more leading character from the Classic Trilogy! Jedi rejoice!
Other actors on the guest list this year were Robert Picardo (Star Trek), Dirk Benedict (the A-team, Battlestar Galactica), Doug Bradley (Hellraiser), Kristanna Loken (Terminator), Jewel Staite (Firefly, Stargate), Dwight Schultz (the A-team), Marc Singer (the Beastmaster) and a hefty selection of the crew that starred on the British "Allo, Allo" television series: Guy Siner, Fransesca Gonshaw, Arthur Bostrom and Sue Hodge.
Also comic fans again had the time of their life and that just by looking at the artist guest list: Frank Cho, Dave Gibbons, Greg Capullo, Brandon Peterson, Anne Stokes, Adrien Floch, Ian Churchill, Romano Molenaar, Adam, the unimitable Lectrr, Simon Rohrmuller, Jim Maitre, Jorg De Vos, Art Grafunkel, Kristof Spaey, Serge Buyse, Sybille, Walter Laureysens and Geinz will give rendez-vous at the show and that was not even the complete list!
So strap on your lightsaber and head for the FACTS photo report!
All info and much more about the FACTS convention can be found at http://www.facts.be/