Series:

Darth Maul

Issue: 1

Title: Book I (Part I)

Creators: Cullen Bunn (Writer); Luke Ross (Illustrator)

Release Date: February 1, 2017

Timeline: Prior to the events of Star Wars Episode I: The Phantom Menace

Review by Colin Borden. This is a full review with discussion.
Spoiler warning applies...
Bred on hate, fear, and anger…steeped in the ways of darkness…and trained to kill. Darth Maul's time as apprentice to Darth Sidious has long been cloaked in shadows, but at last we will reveal his tale of revenge. From writer Cullen Bunn (DEADPOOL KILLS THE MARVEL UNIVERSE, WOLVERINE) and artist Luke Ross (STAR WARS: THE FORCE AWAKENS, HERCULES) comes a tale of rage unleashed as Darth Maul prepares for his first encounter with the Jedi.
In the shadows, an ancient enemy stirs. The Sith - practitioners of the dark side of the Force long thought destroyed - secretly work to undermine and eventually overthrow the Jedi Order, the guardians of peace and justice in the galaxy.
Two members of the Sith order - Darth Sidious and his apprentice Darth Maul - secretly await their moment to strike. But while Sidious plans an intricate series of deceptions and machinations, Maul grows restless.
The moment of revenge is close at hand, and he is unwilling to wait much longer...
Review & Summary
I was so excited when Marvel announced this series. Since we had finally received an ending to the fan-favorite character in Rebels, many people were worried that it was the last time they would see a story involving one of the most underused characters ever created in the Star Wars Universe (that will make even more sense later on - I promise). Ever since his untimely "demise" in The Phantom Menace, fans wanted more of the Zabrak and i'm glad to get more content with this series.
Even while reading the opening crawl, I was getting more anxious to see Darth Maul doing some more Darth Maul things. It had an interesting start that threw me for a second. A diverse group of big-game hunters walking through a cave of sorts with breathing apparatuses on their faces. I found myself just thinking "Maul, Maul, Maul" over and over while I watched them walking and then it happened. And it almost turned me off immediately!
Rathtars! Yes, Rathtars show up and start devouring the hunters and taking them apart piece by piece even leaving only the feet of one of the hunters. I know I'm not alone in this sentiment, but Rathtars just stuck out like a sore thumb in The Force Awakens and that pretty much ruined them for me forever. I decided to trudge on and let the Rathtars slide...for now. Thankfully, I did because there you see one of my favorite Sith Lords hiding in the shadows, scoping out the situation.
Despite the Rathtars, Mauls entrance into the comic was awesome! He had not a double-bladed Lightsaber, only a pike-type weapon which he uses with a degree of excellence. One of the best parts of the comic that I noticed this early on was the inner monologue that accompanies Darth Maul. He never seemed like a big talker in the films, although you get much, much more in The Clone Wars and Rebels, but it's nice to know what he is thinking. It really gives you an in-depth look into what makes this Sith Lord tick and surprise! It's revenge and the desire to kill! As he kills the Rathtars, you can see by his thoughts how anxious he is to fight and kill. "If only the leash around my throat would loosen," is one of his notable thoughts.
After taking out the Rathtars, he compares himself to them for both being hungry, vicious, and relentless, but he envies their freedom. Maul makes his way to Coruscant where we see him stalking a Jedi Master and Padawan from the shadows. At one point, they sense they are being watched and feel his coldness. Maul watches them while gripping his hilt and thinks of the suffering he's endured during his training. You can really see how anxious he is to confront the Jedi. The part of this that I really enjoyed was Maul thinking to himself how the Jedi's power is waning and then even the Padawan raises his doubts about relying on the Force when they follow their senses to find no one there.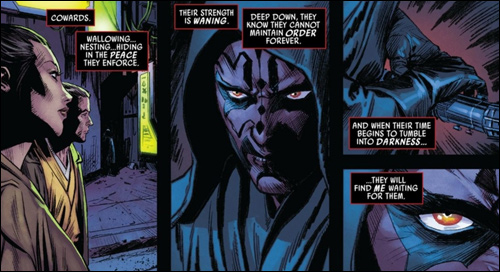 Enter Darth Sidious. I felt like I knew exactly how this conversation was going to turn out from reading the Plagueis novel, and I was correct. It was basically Sidious reprimanding Maul for continually disobeying him and always testing this boundaries with the Jedi. Sidious explains that he indulges Maul with hunting expeditions and missions, but it's obvious this is not enough for
Maul. Darth Maul explains to his master that he only wishes to prove himself and tells him he's "ready". Sidious makes it perfectly clear that Maul may be ready, but HE is not. Palpatine also threatens his apprentice by telling Maul if he puts his plans in danger again, "It will not be a Jedi who casts you down.." Sidious then sends Maul on a mission that will quench his thirst.
The mission is something I had mixed feelings about. The assignment is to assist the Trade Federation at their secret mining facilities where they have been attacked by pirates. Pirates have become the go-to villain in almost every Star Wars format, whether it be book, movie, comic, or television. I feel they may be going a bit overboard with them (get it?). Anyway, Maul assures Sidious it will be taken care of and Sidious takes this opportunity to once again show his authority over Maul by grinning and saying, "What else would I expect?"
Let me tell how excited I was to see Maul in the Scimitar and heading towards what seemed like a possible space battle. He fired the torpedoes and then....That was it! I wish they showed him doing a bit more flying. I really wanted to see him in a space battle, however, his entrance into the Pirate/Trade Federation hostage situation was pretty neat. He came jumping in after cutting open the door reflecting bolts back to whomever. He even killed some Trade Federation officials who seemed to get in the way. One pirate remained and the pirate assumed he could trade information to this Lightsaber wielding "Jedi" in exchange for his life!
The pirate explained that the crime Boss-Mistress Xen Xrexus had captured a Jedi Padawan and was going to auction it off to the highest bidder. This seemed to really intrigue Maul, but unfortunately for the pirate he was out of information so Maul dispatched of him. The Trade Federation thanked Maul and told him how "they" would be rewarded for informing Lord Sidious of this Padawan auction to which Maul replied, "A pity...the pirates killed everyone on this vessel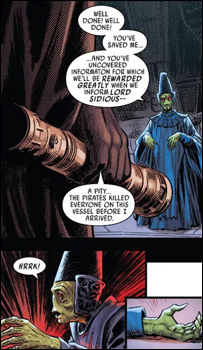 before I arrived" and then Maul finished him off to my delight. As he flew away, Maul thought to himself, "My master has his secrets, so too do I have mine." Maul knows this Padawan who represents everything he hates is waiting to be rescued and the Jedi will soon come, but they will be too late because Maul says, "I will get there first!"
Wowee what a great start to a series! This issue did so well in showing Darth Maul's restlessness in wanting to hunt the Jedi. One of the greatest additions to this series is the inner monologue that we see throughout. It really does a good job of showing you how Maul is always thinking of one thing - Revenge. Although I did not like the Rathtars, I can understand why they used them. As we've seen in other stories, Maul has hunted many dangerous beasts, so they could've used any others, but they felt they needed to do that The Force Awakens tie-in. Other than that, I really like how Sidious interacted with Maul and it was interesting how almost lenient he was towards Maul's constant disobedience to toying with the Jedi. The Jedi/Padawan conversation was something else I was glad they added. It showed how their connection to the Force was swaying. When Maul destroyed the ship from The Scimitar he says, "More scraps from my Masters table," and you can see how bored he is waiting. Overall, it was a great story and the ending made me so excited to read the next. Will he get the Padawan? What will he do with it when he does?
Want to see a certain series reviewed? Drop me a line and let me know!
What Worked
Maul's inner monologue
The various species of aliens as background characters
The Jedi/Padawan sensing a "cold" feeling
The Scimitar!
The Padawan auction
What Didn't Work
Rathtars
More Pirates
Lacking a space battle
Variant Cover Gallery
External Links: