Title: Duel of the Droids
Season: One
Episode: 7
Chronological Episode: 12
Original Air Date: November 14, 2008
Runtime: 22 minutes
Credits: Review & Text: Mike Taber; Page layout & Design: Chuck Paskovics
You hold onto friends by keeping your heart a little softer than your head.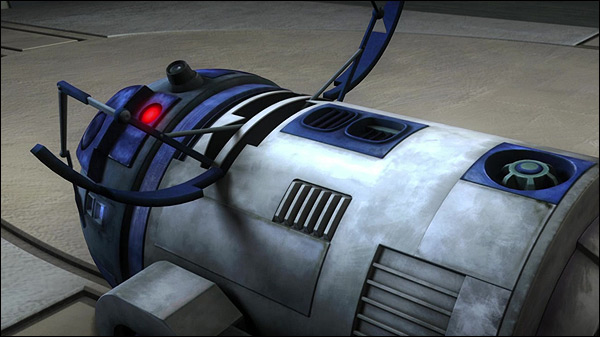 Missing in action! Anakin Skywalker's heroic droid navigator R2-D2 was lost in battle. When a desperate search fails to locate Artoo, Anakin is forced to take on a new navigator, R3-S6. Now the Jedi embark on a dangerous new mission, to find a secret enemy listening post. Meanwhile, R2-D2 has fallen into the hands of a vile droid smuggler and is on his way to General Grievous who will surely plunder the Republic's secrets hidden within him....
"Duel of the Droids" isn't the best Star Wars: The Clone Wars had to offer, but it was another enjoyable entry in the still young series and demonstrated some of its early strengths and weaknesses. Picking up where the last episode left, the scavenger Gha Nachkt agreed to sell a captive R2-D2 to General Grievous. R2 managed to send a message to Anakin who tracked his location to a secret Separatist listening post. R2 was met by General Grievous when he arrived at the Separatist listening post. I actually thought this was a good episode for General Grievous. Yes, in the end he escaped like a Saturday morning cartoon villain but I liked his portrayal throughout the rest of the episode. There was something creepy about his "No need to fear, we're all droids here" line. It demonstrated that Grievous had completely given up on his humanity and saw himself as a droid. Anakin, Ahsoka, and a squad of clone troopers infiltrated the Separatist base in hopes of destroying it and rescuing R2. The sequence where they jumped from the ship and landed on the base was a standout moment. It's one of the most visually impressive sequences in season one and Rex's displeasure at having to carry R3 was a genuinely funny moment. I mentioned it in my review of the previous episode, but Kevin Kiner's score still didn't sound like Star Wars. There's always room for a new interpretation, but this didn't work. It was very distracting in a few scenes. After Gha Nachkt unlocked R2's secrets, Grievous causally killed him. Gha Nachkt's death caught me off guard the first time I saw this episode. You don't nonchalantly kill Ron Perlman! Nachkt's abrupt end worked though because it demonstrated Grievous' ruthlessness, the senselessness of death during a war, and the show's willingness to depict a brutal death like that. Grievous stabbed an unarmed man in the back and they lingered on the visual of the lightsaber going through Gha Nachkt's chest. That's pretty brutal for a so called "kid's show."
The Republic infiltration group split up. Anakin went to find R2 while the others continued with the mission to destroy the base. However, Ahsoka's group was delayed by Goldie who was working for General Grievous. I'm shocked! Well, not that shocked. The "Goldie is a Separatist spy" reveal was obvious to everyone except Ahsoka. For me, the Goldie character just didn't work. The Separatist spy angle is an intriguing idea, but it was largely wasted here. The writers just didn't do anything interesting with it in this episode. Thankfully, the Separatist spy idea was far more successfully explored in "The Hidden Enemy." Grievous attacked Ahsoka and the squad of clone troopers led by Captain Rex. I'm glad that it was clear that Ahsoka was outmatched when she encountered Grievous. I was afraid that the writers would have Ahsoka defeat Grievous, which would have been unrealistic at this point in her training. Instead, the overconfident Ahsoka was humbled and spent most the episode fighting to survive. Obviously they weren't going to kill Ahsoka after seven episodes, but Grievous felt like a genuine threat. I loved the shot of Ahsoka blocking Grievous' lightsaber before he could kill Rex. Overall, I thought the direction in this episode was great. Between the skydiving scene, the hallway battles, and Grievous' claustrophobic hunt for Ahsoka there were some really impressive visuals in this episode. The cat and mouse game between Grievous and Ahsoka was probably my favorite part of the episode though. I loved the moment when Grievous reached down from the ceiling and grabbed Ahsoka by the neck. It was one of the most terrifying Grievous moments in the series.
While Ahsoka was trying to hold off Grievous and Rex completed the mission, Anakin rescued R2 from Grievous' bodyguards. Anakin then ordered Rex to set off the explosives even though they were still in the base. This allowed Ahsoka to escape Grievous and led to an astromech battle between R2 and Goldie. The astromech battle was a little cheesy, but the way R2 destroyed Goldie was great. That was a classic R2-D2 moment. The episode ended with Anakin contacting Obi-Wan. It's a very brief scene, but it added an important element to the episode. It reinforced Obi-Wan's disregard for droids which at least makes Obi-Wan not remembering R2 in A New Hope a little more believable. More importantly, Obi-Wan and Ahsoka both don't understand why Anakin would go to such great lengths to save a R2 which highlights how Anakin is different from the rest of the Jedi. "Duel of the Droids" may not be a masterpiece, but it was another fun season one episode.
What Worked
Grievous' hunt for Ahsoka
Gha Nachkt's death
Impressive direction and enjoyable action scenes
Some great R2-D2 moments
What Didn't Work
Goldie the Separatist spy
Kiner's score
External Links: