Title: The Rise of Clovis
Season: Six
Episode: 6
Original Air Date: March 7, 2014 (Netflix)
Runtime: 23 minutes
Credits: Review & Text: Mike Taber; Page layout & Design: Chuck Paskovics
Jealousy is the path to chaos.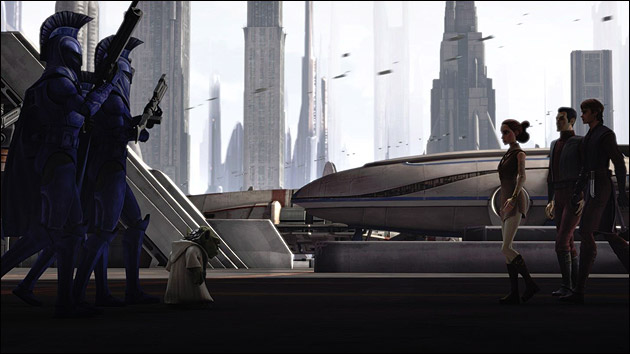 War profiteers! In times of war, credits are the fuel that fund all operations. Senator Amidala is sent to Scipio to resolve matters between the Republic and the InterGalactic Banking Clan. Here she is reunited with Rush Clovis – a once-close friend, but now a known traitor to the Republic. When Clovis reveals corruption at the core of the Banking Clan, Senator Amidala helps him steal vital files that may uncover the full extent of the plot. Anakin Skywalker is sent to rescue the Senator, and escort the information back to Coruscant, leaving the Banking Clan in chaos....
Before I get into my review of the actual episode, I have to say it was great to hear Ian Abercrombie's flawless portrayal of Palpatine one last time. I'm not a huge fan of Tim Curry's interpretation of Palpatine and hearing Mr. Abercrombie in the role he owned for five seasons reminded how much I've missed his version of that character. Rest in peace Mr. Abercrombie.
While "Rise of Clovis" was still bogged down by a relatively dull and unimportant plot, it was a huge improvement over the last episode because it chose to focus on characters instead of minutia. "Rise of Clovis" managed to make Clovis a more sympathetic character and put the dysfunctional relationship between Padmé and Anakin front and center. At the beginning of the episode, several senators and Jedi gathered in the Chancellor's office to see what Clovis had to say. Clovis seemed to genuinely want to reform the Banking Clan and expose corruption. I suppose banking reform is a realistic plot point, but that doesn't necessarily make it an interesting one. I'm not saying every episode has to be jam-packed with action, but I don't think of banking reform when I think of Star Wars. Anyway, Palpatine told Padmé to help Clovis.
This is when the episode starts to improve. Anakin told Padmé as her husband he demands her to turn down the assignment and garbs her by the arm every time she tried to walk away. I touched on this in my last review, but I never felt we were supposed to like Anakin and Padmé as a couple. It's supposed to feel awkward and flawed. These two people are trying to live out a fantasy they'll never be able to achieve. This episode did a better job establishing that than the prequels. After that, we got a great scene between Anakin and Obi-Wan. Obi-Wan talked about attachments and Anakin's feelings for Padmé as well as the feelings he had for Satine. Anakin was resistant, but our take away from that scene should be that Obi-Wan at least realized Anakin has feelings for Padmé and was trying to help.
Back at Padmé's apartment, she and Clovis started talking about his past. Apparently I wasn't the only one wondering why Clovis was the only human in the Banking Clan. It turns out Clovis' father was a servant to one of the most powerful Munns in the Banking Clan and when his father died the Munn raised Clovis as his own. This went a long way to make Clovis a more sympathetic character. Clovis also picked up on the fact that Anakin has feelings for Padmé. Just as Clovis went to kiss Padmé, Anakin walked in. Anakin lost control, force choked Clovis, and proceeded to brutally beat him. Clovis covered for Anakin when security arrived, but Padmé admitted that their marriage wasn't working and she didn't feel safe anymore. She even said they shouldn't see each other for a while. Frankly, I'm not a big Padmé fan. Her character fell flat for me in the prequels and has been rather annoying in her Clone Wars appearances. Leia and Ahsoka are much stronger and more interesting female characters. With that being said, Padme was used effectively in this episode. Dooku contacted Clovis and offered to help make him the head of the Banking Clan by giving him evidence of corruption. Clovis used the evidence to have the heads of the Banking Clan arrested and the Senate agreed to vote him in as the next chairman. "Rise of Clovis" rose above a mediocre plot by focusing on characters.
What Worked
Focused on characters instead of minutia
Examined Anakin and Padme's flawed and at times disturbing relationship
Obi-Wan's Conversation with Anakin
More sympathetic portrayal of Clovis
What Didn't Work
Banking reform in the Star Wars galaxy. Need I say more?
External Links: