Title: Shroud of Darkness
Season: Two
Episode: 18
Original Air Date: March 2, 2016
Runtime: 22 minutes
Credits: Review & Text: Mike Taber; Page layout & Design: Chuck Paskovics
"You are what I once was. A Knight of the Jedi Order." SPOILERS.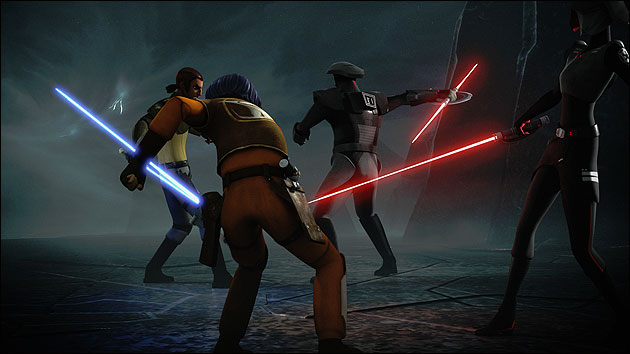 In the past, I talked about how Rebels has become overly reliant on guest stars and existing characters but somehow this episode brought back five Star Wars alums without it feeling forced. James Earl Jones, Frank OZ, Ashely Eckstein, Matt Lanter, and Jason Isaacs all contributed to this episode. Without purpose, bringing in important existing characters will feel contrived and pointless (Leia). However, "Shroud of Darkness" used all of its returning characters and actors in meaningful ways.
This episode began with Kanan and Ezra battling the Seventh Sister and the Fifth Brother. While the duel was entertaining, it strangely lacked a sense of urgency. It never felt like Kanan and Ezra were challenged by the two Inquisitors. Frankly, the Seventh Sister and the Fifth Brother have been disappointing additions to the series. The return of the Grand Inquisitor only made it more noticeable. The Seventh Sister and Fifth Brother have failed to leave much of an impression and remain underdeveloped and ineffective villains, with the Fifth Brother being the weaker of the two. In contrast, the Grand Inquisitor made an immediate impact when he was introduced. While far from a perfect character, the Grand Inquisitor was at least a threat to our heroes and benefitted from the exceptional voice work of Jason Isaacs. While the death of the Grand Inquisitor in the season one finale was a bold move that should be applauded, it also robbed the show of one of its best assets. After their latest run in with the Inquisitors, Kanan was concerned that he and Ezra were what was drawing the Inquisitors to the Rebellion. It reminded me of how Luke believed his presence would endanger the Endor mission. Back aboard the Ghost, Ezra and Ahsoka watched a hologram of Anakin Skywalker leading a lightsaber training lesson. First off, it was great to hear Matt Lanter's Anakin again. Lanter and The Clone Wars did a lot to improve the character of Anakin Skywalker over the course of the series. Hearing Ahsoka talk about Anakin was another great moment. Ahsoka said that the last time she saw Anakin was when he rushed off to rescue the Chancellor. That's right, Ahsoka apparently saw Anakin right before the events of Revenge of the Sith. It's been confirmed through concept art that Ahsoka would've played a role in Star Wars: The Clone Wars after she left the Jedi Order if the series had continued. Rex even said earlier this season that she was involved in the Invasion of Mandalore at the end of the war. Honestly, I'd give up Rebels in a heartbeat to see those stories. Ahsoka walking away from the Jedi Order and now learning that she had contact with Anakin after she left makes Anakin's distrust of the Jed Council in Revenge of the Sith a lot more believable.
Seeking answers from Yoda, Ahsoka, Kanan, and Ezra traveled to the Jedi Temple on Lothal. I found it interesting that Ahsoka wouldn't help Kanan and Ezra open the Jedi Temple because she was no longer a Jedi. Once inside the Temple, Kanan, Ezra, and Ahsoka experienced three separate Force visions. The way I took it, Yoda reached out through the Force and created these trials or visions for each of them to face. Kanan encountered a Jedi Temple Guard during his vision. The guard claimed that the dark side calls to Ezra and he must be eliminated. Ezra's growing connection with the dark side has been one of the most interesting storylines on Rebels, and is the most intriguing fate for a character that I still haven't connected with. Kanan dueled with the group of Jedi Temple Guards and eventually accepted that he couldn't protect Ezra forever. After accepting this fact, Kanan was knighted. Kanan is now officially a Jedi Knight. The Jedi Temple Guard revealed himself to be the Grand Inquisitor. I loved the reveal. While I saw it coming, it adds a whole new layer to the Grand Inquisitor and the fall of the Jedi Order. Becoming a Jedi Temple Guard demonstrated the ultimate devotion to the Jedi Order and yet this one fell and helped destroy the Order itself. I'd love to learn more about the Grand Inquisitor's fall to the dark side. Was it out of necessity or was he corrupted by the war like Pong Krell and Barriss Offee? Was he named the Grand Inquisitor because he was the only other Jedi besides Anakin to fall or are most of the inquisitors former Jedi that fell to the dark side? When Ahsoka described Yoda to Ezra she said, "As the Clone War dragged on, he carried a great burden. As if he knew before anyone else that one time was ending and another beginning." This idea was explored in season six of The Clone Wars and it was nice to see it revisited here. In Ezra's vision, he encountered Yoda himself. Yoda said as the war continued, the Jedi became consumed by the dark side. Yoda went on to admit that he fought for a long time and was consumed by fear, he just couldn't see it. What I found so interesting about these scenes is they had nothing to do with Ezra. What really worked for me was exploring the effect of the Clone Wars on Yoda. After seeing that Ezra was adamant that he was going to fight, Yoda told him to find Malachor. While there was some great material for Yoda in this episode, he looked terrible. Rebels clearly operates on a limited budget, but the Yoda animation was still pretty bad. And that brings us to Ahsoka's vision. Ahsoka heard Anakin's voice. This scene between Ahsoka and Anakin was my favorite of the three visions. Ashley Eckstein and Matt Lanter were both excellent. Hearing the pain in Ahsoka's voice as she finally accepted what Anakin had become was a really powerful moment. I only wish it was longer. As with most episodes of Rebels, the story would've benefited from being split into two episodes. With the Inquisitors closing in and the temple collapsing, Kanan, Ezra, and Ahsoka made their escape. As they were leaving the Temple, Yoda waved goodbye to Ahsoka and she smiled back. It was a small moment, but it might be my favorite moment in the whole episode. The episode ended with Darth Vader's arrival at the Jedi Temple. Vader said that the Jedi's growing power will be there undoing, and I kind of hope he's right. The more direct contact Kanan and Ezra have with Yoda, the more I'm convinced that they have to die before the events of the Original Trilogy. It pains me to say it, but the same goes for Ahsoka. To have three Jedi (well Ahsoka is a former Jedi) be in contact with Yoda and have them so involved with the rebellion only works up to a certain point. It wouldn't make sense for them to still be around during the events of the Original Trilogy. It doesn't fit with what has been established. "Shroud of Darkness" juggled a lot of important storylines, themes, and characters and delivered another great installment. Let's hope the rest of the season can maintain the quality we've seen with "The Honorable Ones" and "Shroud of Darkness"
What Worked
Anakin and Ahsoka
Grand Inquisitor reveal
Yoda's goodbye to Ahsoka
Exploration of the effect of the Clone Wars had on Yoda
More on Ezra's connection to the dark side
What Didn't Work
Terrible Yoda animation
Seventh Sister and Fifth Brother continue to disappoint
Like most episodes, could have benefited from more time
External Links: