Title: A Princess On Lothal
Season: Two
Episode: 12
Original Air Date: January 20, 2016
Runtime: 22 minutes
Credits: Review & Text: Mike Taber; Page layout & Design: Chuck Paskovics
Darth Vader. Obi-Wan Kenobi. C-3PO. R2-D2. Bail Organa. Yoda. Lando Calrissian. Grand Moff Tarkin. Ahsoka Tano. The Emperor. Captain Rex. Commander Wolffe. Gregor. Hondo Ohnaka. Princess Leia. "Old Master."  Who do you think is going to show up in Star Wars Rebels next? Fingers crossed for a Watto appearance. SPOILERS.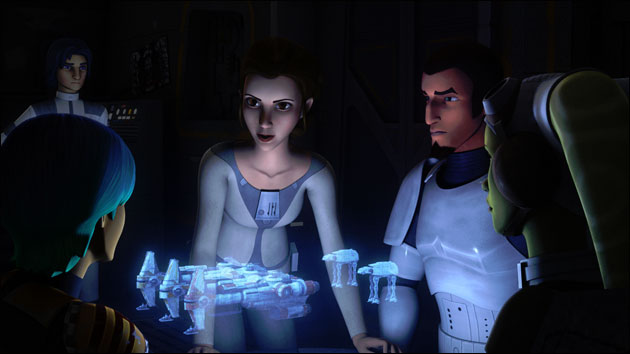 After the destruction of the rebel base on Garel in the winter finale, Hera received word that Bail Organa agreed to send them reinforcements in the form of three cruisers. The courier of the three cruisers? That would be Princess Leia Organa of Alderaan. Of course bringing a character that is as iconic as Princess Leia is a risky move, one that the Rebels crew might have been wise to avoid. The portrayal of Leia in this episode wasn't really the problem, but her appearance does speak to a larger issue with the show. Star Wars Rebels tends to rely on existing characters like Leia to compensate for weak stories and the thin characterizations of the Ghost crew. I'm not saying Rebels shouldn't bring in some existing characters, because it should. Bringing in characters like Darth Vader, Ahsoka, Rex, and Tarkin made sense and they were meaningful additions to the show. However, Leia's appearance didn't feel very meaningful or needed. Her appearance reminded me of the season one episode that featured the return of R2-D2 and C-3PO. It was great to see those characters again. It was fun to see them interact with Ghost crew, but in the end their appearance didn't add very much to the overall story and felt forced at times. There needs be a good reason to bring in a character like Leia, and I'm not sure we had that here. Perhaps it was just too early to introduce Leia in Rebels. With all that being said, the Rebels crew did a decent job of bringing Leia to life in this world. Julie Dolan gave a fine performance and the character model was instantly recognizable as Princess Leia. This episode gave us some interesting insight into Leia's life before A New Hope. In particular, I liked that Leia's "mercy missions" had become infamous with the Imperial officers. Also, Leia shattering the confidence of the Imperial officer charged with protecting her was pretty amusing.
Kanan and Ezra went undercover as Stormtroopers to meet Princess Leia. Since Alderaan cannot directly support the rebels, Leia planned for the Ghost crew to steal the three cruisers she brought to Lothal. However, the local Imperial officer knew that many of the Alderaan's cruisers had been "stolen" by rebels and drastically increased security. As a result, the plan changed and the Ghost crew pretended to take Leia hostage. Zeb's convincing takedown of the disguised Kanan and Ezra actually did make me laugh, something Rebels has struggled to do in the past. This episode also dealt with the fallout of Ezra's discovery that his parents were dead. Well, at least it tried too. Leia gave Ezra a pep talk and he was particularly violent with one Stormtrooper but that was pretty much it. We've seen hints that Ezra could be tempted by the dark side, and I hope the writers don't shy away from that idea. The final battle in the episode in which the Ghost crew stole Leia's cruisers once again showed that the Empire poses no threat unless Darth Vader or Tarkin are in the episode. Rebels has consistently struggled to portray the Empire as a legitimate threat and this episode is another good example of that. In particular, the relatively easy takedown of the AT-ATs bothered me. Although one of Rebels' strengths has been creating fun action set pieces, the final battle in this episode felt a little clunky. In the end, Leia maintained her cover and the rebels got three new cruisers.
There was also a subplot about Ryder (Clancy Brown's character) accepting that he has to play a role in the rebellion, but it took a backseat to Leia's appearance and Ezra's grief. However, I was glad to see that Ryder is going to stick around for a while. Having Clancy Brown on your show can only make it better. A Princess on Lothal was a disappointingly lackluster outing that once again relied on an existing character to distract viewers from a weak story that didn't really go anywhere.
What Worked
Zeb's takedown of Kanan and Ezra
Clancy Brown is going to stick around? Good call.
Decent portrayal of Princess Leia…
What Didn't Work
… Although her appearance didn't feel very meaningful
Once again, the Empire proved to be no match for the Ghost crew
Shallow examination of Ezra's grief
External Links: