Title:

Star Wars: The Life Day Cookbook – A Practical Review, Part 2

Date: February 4, 2022

Publisher: Insight Editions (Released November 9, 2021)

Author: Jenn Fujikawa and Marc Sumerak

Retail Price: $24.99

Credits: Review & Text: Darlene Paskovics; Page layout & Design: Chuck Paskovics
Official Holiday Recipes From a Galaxy Far, Far Away
Review
My next set of recipes in this fantastic book was a dessert and celebratory drink. I think Life Day should be celebrated every day if I get to eat this food all the time!
I chose Mirial Teacakes, because I am surrounded by all my boys, and this had PINK in it!  In my house we love to dip cakes and cookies in milk, so I also made Keshian Spiced Milk. Both recipes had delightful information at the top and prep time, cooking time, yield and difficulty. Both were listed as difficulty: medium – but I give them a rating as Easy. 
Keshian Spiced Milk
The Keshian Spiced Milk had to soak overnight, so I started with it first. The recipe was easy to follow. I don't own a blender, but I have a food processor that I love, and it worked perfectly. I added the cinnamon sticks and put the whole processor bowl in the refrigerator overnight. 
The next morning, I strained out the rice and cinnamon sticks and let the liquid drain into a large bowl.
I added the rest of the ingredients and mixed well. Once done, I placed it back into the refrigerator until I was ready to serve it. So easy to make!
To serve, I dusted the tops with cinnamon as directed and placed in pretty glasses. DELICIOUS!!!
Mirial Teacakes
The Mirial Teacakes expanded my ingredients and culinary skills. I have never heard of matcha powder and had no idea where to find it in the grocery store. I turned to trusty Google and learned it was powdered green tea. I found it easily by the tea selections in the grocery aisle. Since this uses green tea, and green tea is healthy for you, can I assume that this teacake is healthy for me too? I say Yes!
Now that I had all the ingredients, time to bake! I continued with the easy-to-follow directions and mixed most of the ingredients in a bowl by hand. It was a little thick, but easy to combine.
Next up, was my first culinary excursion into whisking cream of tarter and egg whites together. The end result was supposed to be stiff peaks. This was new for me, and I was unsure if it would work – but miracles happen!  The result looked like fluffy marshmallows and had a lot more volume to it than when I started…but I created stiff peaks! Ta! Da!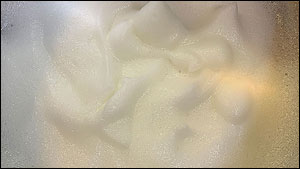 Once I folded my beautiful stiff peaks in with the rest of the batter, it became thinner and smooth. I separated it into 2 bowls, so that I could create my pink and green masterpieces. The recipe called for pink food gel dye, but I just used the red food gel dye that I had on hand, and it worked perfectly. 
I followed the directions and added it to the prepped liners. The top half of the batter was swirled and the bottom half was not yet swirled, so you could see the difference swirling makes. 
Because I love pink, I also added pink sprinkles to the top. It is not called for in the recipe, but it does make it look pretty!
Once baked and dusted with confectionary sugar, they were ready for consumption! They were delightful and YUMMY! Dipped into the Keshian Spiced Milk, it was a match that will live happily together forever!
This made 12 teacakes, and in most families, this would last for a while…in my family it lasted less than 24 hours. I took it as a compliment!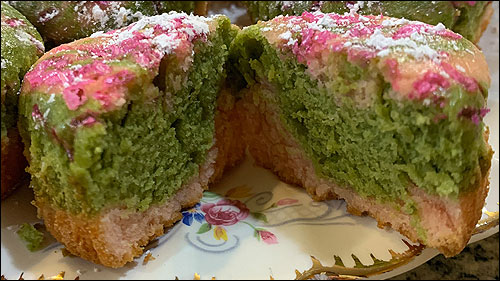 Final Thoughts
I love this cookbook and look forward to making many more of the entertaining, delicious recipes inside!  It will become a family favorite to come back to time and time again!
Click here to read Part 1 of this review!
External Links: