Title: War-Mantle
Season: One
Episode: 14
Original Air Date: July 30th, 2021
Runtime: 25 minutes
Credits: Review & Text: Thomas; Page layout & Design: Chuck Paskovics
Discuss the latest Chapter! (Discussion)
"I'm afraid your services are no longer needed!" SPOILERS.
After last week's entirely pointless episode The Bad Batch is back on track as we near the end of the season. The Bad Batch receive a call from Rex who asks them to rescue a fellow clone from an Imperial facility on the planet Daro. It turns out that the clone is Gregor and that he is no longer willing to work for the Empire. His job on Daro was to train the soldiers that are meant to replace the clones, brand new troopers with a "TK" designation. All of them human recruits from all across the galaxy.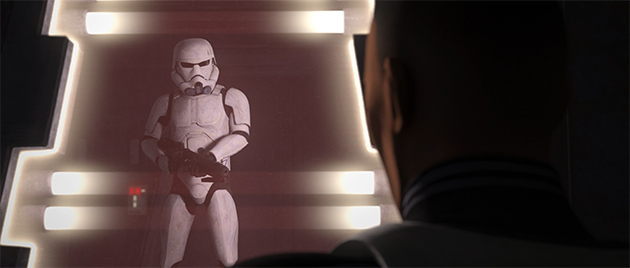 The Bad Batch agree to help and eventually manage to free Gregor. But the Imperial forces are overwhelming and during their action filled escape Hunter is left behind. He gets captured and is confronted by Crosshair in his arrest cell. Something that will certainly be resolved next week or so.
Meanwhile on Kamino the Empire doesn't waste any time. The cloning operation is shut down, some very young clone cadets are shipped off world and Lama Su realizes too late that the Empire is very different from the Republic. While Rampart still has use for a scientist, so Nala Se is ordered to work for the Empire now, Lama Su however is executed, this happens behind closed doors, so you don't actually see it, but it's more than just implied. It's yet another display of the Empire's cruelty.
"War-Mantle" is a much needed improvement over the previous episode. The Bad Batch wasted a lot of time in season 1 with either inconsequential jobs for Cid or being a full blown Rebels prequel. "War-Mantle" is, after quite some time, an episode again that is actually about the Bad Batch and the ongoing transition of the Republic to the Empire. Something I expected to see throughout the entire season, not just a handful of episodes. The transition from clones to human recruits for the army is almost complete now. The Empire wasted little time after Palpatine's coup. Clones were sworn in to protect the Republic, which makes them somewhat of a concern, despite their inhibitor chips. But as was shown previously the chips don't prevent clones from disobeying orders when they feel the Empire is violating what they originally swore to fight for. People who voluntarily sign up to be a soldier have real loyalty and it's once more pointed out how it is also cheaper and that there is an enless supply of potential soldiers.
While The Bad Batch very briefly hinted at reasons why people would sign up to be stormtroopers, very early in the season, I would still like a closer look at why people across the galaxy want to become soldiers for the Empire. This is mostly glossed over and it is not fully explored why the Empire is able to recruit so many people. Chances are these are mostly people the Republic never cared about, Clone Wars season 7 made it pretty clear that normal people are not always too fond of either Jedi or the Republic, still, this aspect of the society in Star Wars could be expanded upon.
Anyway, "War-Mantle" was a solid, entertaining and action filled episode that also fills in some gaps. How and why clones were phased out in favor of human recruits is much clearer now and we also know now that Kamino didn't really go out with a bang, everything was just stopped, shipped off world or, in the case of Lama Su, disposed of.
Since the episode ends on a cliffhanger we can expect that the next one or possibly even the last two episodes of the season will be one mini-arc, something the series is very much in need of.