Title: A Distant Echo
Season: Seven
Episode: 2
Original Air Date: February 28, 2020
Runtime: 24 minutes
Credits: Review & Text: Thomas; Page layout & Design: Chuck Paskovics
The search for truth begins with belief
A Distant Echo is the second episode in the four episode Bad Batch arc. In the previous episode Captain Rex and the Bad Batch found out that Echo, who was presumed dead, is apparently still alive and used by the Separatists to provide them with intel on strategies and tactics Captain Rex uses. In the end a signal was detected, coming from another planet. And in this episode Captain Rex, this time accompanied by Anakin, and the Bad Batch make their way to the planet Skako Minor, from which the signal is coming from.
After a not too friendly first contact with some natives that is resolved peacefully Rex, Anakin and the Bad Batch finally make their way to the outpost the signal is coming from. They dispose of the droids guarding it and Rex and Tech find the source of the signal in a chamber containing a tank. And inside the tank is none other than Echo. With robotic legs, attached to wires, but alive.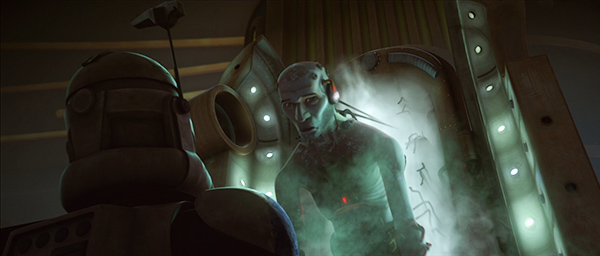 And that's pretty much it for this episode. It was entertaining, it was fun, it had some good action scenes, especially the one involving the flying creatures the natives use, but all in all it was par for the course for The Clone Wars. It is somewhat unfortunate perhaps that this episode was basically a rinse and repeat of the previous episode which also involved the infiltration of a Separatist outpost and firefights with droids. The episode's most interesting moments were actually in the beginning. While the new Clone Wars episodes are more or less merely finished versions of the old animatics a few things were changed. And it turns out the new scene that was added is the most intriguing. It revolves around Anakin contacting Padme in secret, with the help of Captain Rex' helmet communicator. Who then stands guard so no one walks in on Anakin's communication with Padme. So we now know that Rex is on the secret relationship between Anakin and Padme but keeps his lips tightly sealed.
The scene takes a somewhat humorous turn when Obi-Wan enters the scene. Rex has somewhat of a hard time trying to explain where Anakin is and what he is doing. And then we find out that Obi-Wan knows about Anakin and Padme as well when he quips to Anakin that he hopes Anakin told Padme hello from him. So it seems Obi-Wan not only knows, but is apparently more or less ok with the illegal love affair. Maybe his own past with Satine plays a role here. But it turns out this scene is somewhat controversial in certain circles, because this all new scene replaces an old scene.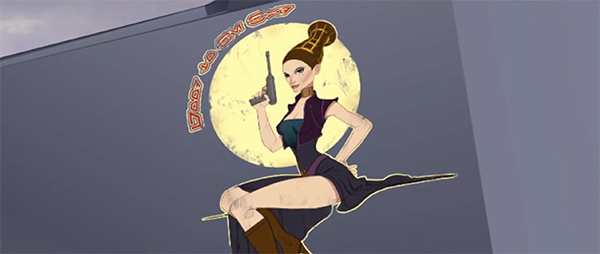 In the old scene Anakin discovers some sexy Padme nose art on the ship to his dismay and he's less than pleased with it, whereas the Bad Batch tell him how they check out the holovids with the Senator and Wrecker quips that she can negotiate with him anytime. It's a somewhat silly but completely harmless joke. However, the scene didn't really add anything to the episode, other than a few laughs perhaps. Some people say the removal of the sexy Padme nose art scene is clear evidence of Lucasfilm's new agenda. However, in an interview Dave Filoni said they added the Padme scene (and thus removed the nose art scene) because they found that Padme had no scenes in season 7 and he wanted to change that. I would also argue that the new scene with Anakin contacting Padme is much more interesting, since it reveals that at least two people know about Anakin's relationship with Padme, Rex and even Obi-Wan of all people. So I don't think agenda had anything to do with the new scene, it's simply a much better written scene and it improves an otherwise average episode that revolves around infiltrating yet another outpost and destroying lots of droids.
I rate this episode 3.5 stars, just like the first episode. Without the new scene the score would have been somewhat lower, since this episode is otherwise par for the course for The Clone Wars. Perfectly entertaining, with great animation and visuals (and season 7 has even improved visuals!), but since we already know that Echo is most likely alive and that he will most certainly be rescued it would have been a very predictable episode. But the new scene adds a few touching character moments and even a few surprises!
If you don't care for spoilers you can read Mike's old review of the entire Bad Batch arc, based on the animatics released in 2015.
You can also watch the original animatic (with the nose art scene!) the new episode is based on: you can find it here on YouTube!