Title:

Star Wars: The Last Jedi (Blu-ray/Digital HD)

Release Date: March 27, 2018

Number of Discs: 2

Format: Blu-ray, Digital copy

Retail Price: $24.99

Credits: Review & Text: Chuck Paskovics; Page layout & Design: Chuck Paskovics
Review | Talking Points | Discussion
I WILL NOT BE THE LAST JEDI.
Review
The quality of this Star Wars: The Last Jedi Blu-ray release was determined using a Pioneer 7.1 Surround system, and viewed on a Panosonic 58" television in a home-theater environment. Your personal results may vary based on your viewing environment.
Another Star Wars movie comes home! Whatever your feelings on the movie itself, it's always nice to add another movie release to the home collection. This release was one disc less than previous Disney Star Wars releases, opting to finally drop the DVD version of the film. With the basic release you get the feature presentation on one Blu-ray disc, and the bonus features on the second disc.
We will be reviewing the Blu-ray release for Star Wars: The Last Jedi. This review will concentrate on the qualities of this set, and not the movie itself. You can read our full movie review right here. There are several retail exclusive versions available, but for this review we will be looking at the standard Blu-ray/Digital Copy release.
Picture
Once again we are treated with a superb video transfer for a Star Wars film. Like all Star Wars movies, there are plenty of eye-candy scenes throughout the film, and they look stunning in 1080P. True blacks pop during the dark scenes, and the action scenes run smooth throughout the film. For those that opt for the 4K version of this movie, I'm sure you will be treated to a visual experience like no other Star Wars film, but if you are happy with standard HD then you won't be disappointed. I didn't find anything to complain about for the 1080P transfer.
Sound
Today's young generation might be OK with watching movies and shows on their mobile devices, but one of the biggest parts of the experience for me is the added soundtrack of a movie. Along with visually enjoying a movie, the audio that accompanies it can make the viewing experience much more entertaining. With The Last Jedi, we once again get to enjoy a beautifully mastered DTS-HD Master audio track. With a well-balanced dialog-to-sound effects and music mix, you can expect to have an amazing home theater experience. Just like the Force, the bass will flow through you!
Packaging
The Last Jedi comes in your standard Blu-ray style packaging, with a slip case on the outside and a blue-colored Blu-ray case inside. I think it was a missed opportunity to include a unique red case with this set since the overwhelming marketing scheme for this movie from start to finish has been red. With The Force Awakens we received a black case, which reflected the look and feel of that movie's marketing. A red case for this set would have been quite striking. Other than that, you can expect pretty standard packaging for this set.
The case interior has two tabs to hold both discs: the Blu-ray feature film, and the bonus features disc. There's no packaging insert to go with the set, although it does come with a Digital Movie code insert so you can add The Last Jedi to your online collection as well.
The disc art for this set woefully falls short. With so many great scenes to choose from, both discs feature extremely bland art. Something with a bit more color would have been more than enough to make the disc art pop a little more.
Also included is a digital code so that you can redeem your included digital copy of The Last Jedi. Alas, it's just the standard HD version, NOT the 4K version.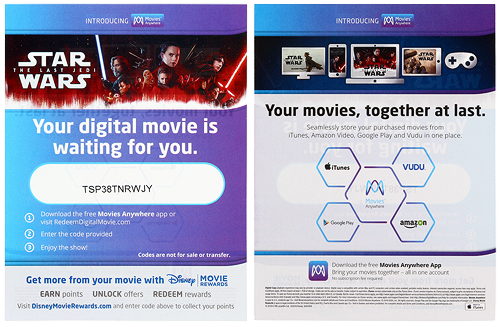 Menus and Presentation
We get the full red-themed look that followed The Last Jedi's marketing from start to finish when we visit the menus of both discs. The menu options are straight forward and easy to navigate. The only thing I will nitpick is the scene selection screen. With only 3 options at a time it can take a bit too long to travel to some of the later chapters if you are in a hurry to go to a specific scene.
The menus feature a rolling display of scenes from the movie accompanied with thematic music that both recycle if you sit and watch them long enough. It's a nice and subtle distraction that make the menus a bit more entertaining than plain static menus. You will find the same exact menu and scenes on both the feature presentation disc and the bonus features disc. Perhaps a different static image for the bonus features disc would help differentiate the two. Some type of behind the scenes image would have been great here.
Bonus Content
We get a handful of bonus content to go along with the movie, highlighted by some entertaining deleted scenes. While we won't be reviewing each piece of bonus content, we have summaries of each piece below. My favorite added content is always the deleted scenes, as they offer a bit more to the movie. For The Last Jedi, we actually get 12 deleted scenes, and alternate opening, and a mini featurette on the costumes of creatures of Canto Bight. They probably stuck this last feature with the deleted scenes because it is too short to stand alone. My two favorite deleted scenes were the Caretaker Village Sequence and Mega Destroyer Incursion – Extended Version. Both of these scenes were both entertaining and offered an extended look at a few areas of the film, and both could have easily been kept in the movie. The other unique added scene was the alternate opening. I wasn't crazy about this scene since it didn't fit with how we are used to seeing Star Wars movies open, and I'm glad that change occurred. The only part of it that added insight was at the end and it explained why Poe was trying to buy time with his attack run in the beginning of the movie. All-in-all, the bonus content provides a great extended look at The Last Jedi.
The Director and the Jedi – Go deep behind the scenes with writer-director Rian Johnson on an intimate and personal journey through the production of the movie—and experience what it's like to helm a global franchise and cultural phenomenon.
Balance of the Force – Explore the mythology of the Force and why Rian Johnson chose to interpret its role in such a unique way.
Scene Breakdowns:

Lighting the Spark: Creating the Space Battle – Get a close-up look at the epic space battle, from the sounds that help propel the action, through the practical and visual effects, to the characters who bring it all to life.
Snoke and Mirrors – Motion capture and Star Wars collide as the filmmakers take us through the detailed process of creating the movie's malevolent master villain.
Showdown on Crait – Break down everything that went into creating the stunning world seen in the movie's final confrontation, including the interplay between real-word locations and visual effects, reimagining the walkers, designing the crystal foxes, and much more.

Andy Serkis Live! (One Night Only) – Writer-director Rian Johnson presents two exclusive sequences from the movie featuring Andy Serkis' riveting, raw on-set performance before his digital makeover into Snoke.
Deleted Scenes (with or without audio commentary) – With an introduction and optional commentary by writer-director Rian Johnson.

Alternate Opening
Paige's Gun Jams
Luke has a Moment
Poe: Not Much of a Sewer
It's Kind of Weird That You Recorded That
The Caretaker Sizes Up Rey
Caretaker Village Sequence
Extended Fathier Chase
Mega Destroyer Incursion – Extended Version
Rose Bites the Hand that Taunts Her
Phasma Squealed Like a Whoop Hog
Rose & Finn Go to Where They Belong
Rey & Chewie in the Falcon
The Costumes and Creatures of Canto Bight

Audio Commentary – View the movie with in-depth feature audio commentary by writer-director Rian Johnson. 
Disc Specifications
Feature Film Run Time: Approximately 152 minutes
Rating: PG-13 in U.S.; PG in CE; G in CF
Aspect Ratio: Feature Film (Blu-ray) = 2.40:1
Audio: English 7.1 DTS-HDMA, English 2.0 Descriptive Audio, French and Spanish 5.1 Dolby Digital Language Tracks
Languages: English, French & Spanish
Subtitles: English SDH, French & Spanish
Wrap-up
It's always exciting when it's time for another Star Wars movie to come home. The home release of The Last Jedi gives fans more high quality formats for a Star Wars movie than ever before. With options for Digital, Digital 4K, Blu-ray, and 4K Blu-ray, as well as many special edition releases such as the popular Steelbook editions, you can pretty much find the perfect version for your desired media output. The standard version supplies plenty of extra content to keep you busy while providing a beautiful video and sound experience.
If you are not looking to continue your collection of speciality releases then this version will suite you just fine. We get to add another Star Wars movie to our ever-growing collection of movies. And, with the release of Solo just around the corner, we will likely get a second home-movie release in the same calendar year for the first time ever.
Star Wars: The Last Jedi In-Home Trailer 
Points of Discussion
Deleted Scenes
Special Features
External Links: