Title:

Elite Praetorian Guard

Release Date: September, 2017

Manufacturer: LEGO

Retail Price: $24.99

Reviewer: Colin Borden
Supreme Leader Snoke's Elite Praetorian Guards
Review
When LEGO first introduced the Buildable Figures line, i must admit, I was less than impressed. They didn't look too impressive in my opinion and I know that I certainly did not need another new scale of figure to collect. However, my niece told me that she really wanted LEGO Finn to go with her 12" Rey figure, so I obliged and got her it for Christmas.
When we started to put it together, I could see why people enjoy these figures and I found them to actually be rather entertaining with their striking and action movements. LEGO was kind enough to send us a sample of the new Praetorian Guard from The Last Jedi to review and I have to say, I really enjoyed this one too! Lets dig into the blocks and see what this Buildable Figure has to offer!
What's in the Box?
This LEGO Buildable Figure Praetorian Guard comes with 92 pieces. It includes the Praetorian Guards Heavy Blade Staff that also splits into two separate handheld blades. This figure also comes with a fabric robe/skirt which really makes it great for articulation.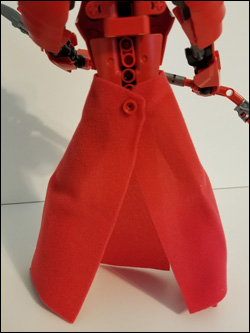 Overall Thoughts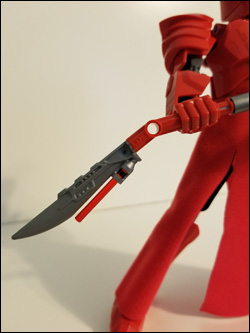 These figures don't really take long to assemble (maybe five minutes), but I don't find that to be the main point of these figures. It's really cool to be able to actually BUILD your own figure, but that is just one aspect of it. The Praetorian Guard comes with the Double Blade Staff, but I love that it can actually be split into the two Handheld blades. This essentially makes it so that you get two different guards in one.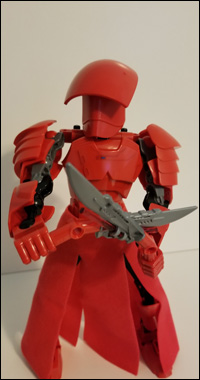 One of the greatest aspects of this figure is the fabric robe. This fabric robe makes all the difference for this figure by allowing for great movement and excellent movement. I think this was a very smart move for LEGO, but then again, I'm not sure they could've done it any other way. Like all of the LEGO Star Wars Buildable Figures, the Paretorian Guard has an action movement. The action on this figure allows the Praetorian Guard to slash his weapon.
While I can see that these figures are not for everyone, I can absolutely see the apeal of them. These are more than just great play figures for younglings and LEGO fans, but they're great for collectors of all ages.
Promotional Video
External Links: