Title:

Hero Droid BB-8 Fully Interactive Droid

Release Date: September, 2017

Manufacturer: Spin Master

Retail Price: $239.00

Reviewer: Colin Borden
Droid Please!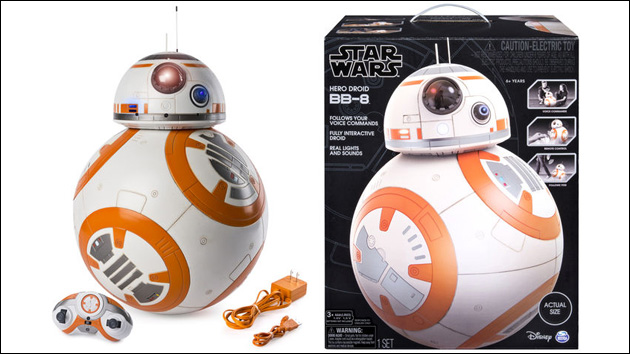 Review
Think back to that first Teaser we saw for The Force Awakens and that very first time we saw BB-8 rolling across the sand. Everyone assumed that this little rolling soccer ball HAD to be CGI, it just seemed impossible that this ball was able to roll while keeping his head on. Then we saw BB-8 roll his way out on stage at Star Wars Celebration in 2015 and the collective community began scratching their heads trying to figure out what dark magic Disney employed to make this droid a reality. Once the fans saw this droid was possible, everybody wanted their own!
Enter Sphero, the company behind the ollie and robotic ball, who introduced us to the first commercially available BB-8 that we could drive around and enjoy with the use of our tablets and smartphones and it was so much fun.....for a day or two, Auction sites were FILLED with these little rolling droids for nearly a third of their retail price. And when I say little, I do mean little! My first thought when I bought one was, "Wow! This thing is so tiny!" Another thing that really irked me about the Sphero was the sounds and how they only came out of the phone/tablet and not the actual droid. Another issue I found was that despite being in modern times, many young children did have tablets or smartphones of their own. I know that my niece drove me INSANE asking to borrow my phone to drive it around and I thought this was a pretty significant issue.
Enter Spin Master! The first time I saw this Hero Droid BB-8 being used, my jaw dropped. First, I was blown away by the sheer size of the droid. It is basically the same size as the Jak's Pacific Deluxe BB-8 coming in at 16" tall (or 19" tall if you include the antenna!) and this droid actualy moves! Thanks to Spin Master, I am able to bring you this full review on the Hero Droid BB-8, so let's get into the nitty gritty and take a look at everything this rolling soccer ball has to offer.
What's in the Box?
This is a pretty big droid, so lets face it, it comes in a VERY big box! However, it is a very strudy box and has a plastic handle at the top to be able to carry it easily. Inside the box, you find the BB-8's head or dome, the giant body, the remote control, one DC adapter to charge the body, one micro-USB to charge the head, directions, and a quick start guide (which is important, so keep it handy for awhile!). First things first, it is required to FULLY charge both the head and the body.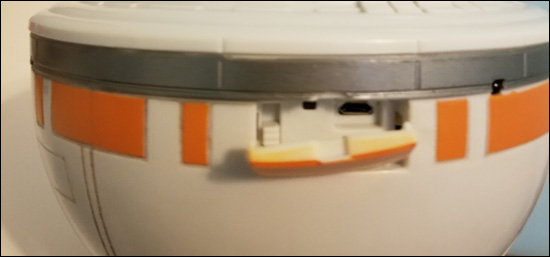 This is noticeably different from the Sphero BB-8 which charges only the body since the head has no electronics in it. It takes about 3 hours to charge the body with the DC Adapter (which will begin blinking red when it is charged) and about 2 hours to charge the head with the micro-USB cable (unfortunately, it does not include the charger base, but who really needs another one of those anyway? The light wiil turn green when it is fully charged). Both charging ports are hidden under panels that flip open on both the body and the head, but they remain nearly invisible when not in use.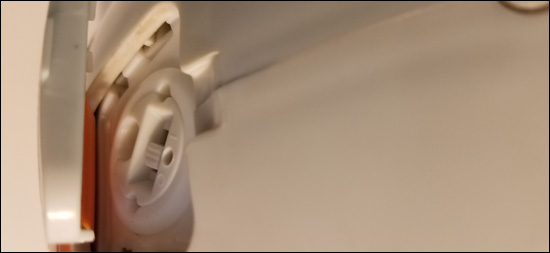 Unlike the Sphero, the Hero Droid BB-8 comes with its own dedicated remote controll which requires three triple A batteries. Some may not be fond of reverting to an old remote control in favor of not implemeneting a bluetooth apllication to drive, but I'll explain why I prefer the former later. The remote style is VERY simple and VERY easy to use. Anyone who has played a video game before will have no issues using this controller at all. Now that both the head and body are charged, it's time to see what this thing can do! Turn both the head and the body on with the switches located near the charger input and BB-8 immediately springs to life as you affix the head to the body.
Drive Mode
Hero Droid BB-8 has three different modes of play that can be alternated using the remote control. Turning the switch on the control all the way too the left allows us to test out Drive Mode. Much like the Sphero, the head affixes to the body uses some magnets and wheels to allow the head to roll along the body as it moves. The reason that the droid needs to charge both parts of his body will become rather apparent soon. The controller features a left analog stick, or joystick, to allow BB-8 to move forward and backward and a right analog stick that allows you to turn BB-8 or have him lean left or right as if peaking from behind a corner.
Now, you can't spin his head really on it's own, but that brings me to the controller button. On the controller is a big button in the middle that allows BB-8 to....well, emote. I couldn't even tell you how many different things he does, because it almost seemed endless. Push this button and maybe BB-8 will move forward and backward while spinning his head and making some noise. Next push may cause him to do a sort of dance. With this button, his head does move separate from the body.
As for the driving, this little guy MOVES! I mean, he really flies for such a big droid. I recommend you go REALLY slow until you get the hand of it. He turns really well and drives very well too, but when you drive him on hard floors, he gets a little move tricky to handle. Not to say the control is bad, it's just different and a little more slick and quick than on a carpet. I could drive BB-8 around for hours and push his emote button.
He really is a blast to drive around and one of the greatest things about this droid is that the sounds actually come out of the droid and NOT the controller. When I said it would become apparent as to why you need to charge both the head and body, this is why! Unlike the Sphero droid (where the sounds only come out of the phone or tablet you drive with), Hero BB-8 makes TONS of sounds and they're loud and coming from the actual droid. Not only does the actual droid make sounds, but he has lights in ALL the right places. This is another thing Sphero lacks (if you dont count the blue charging light that illuminates the ENTIRE droid blue), the Hero BB-8 has lights everywhere he does in the movie and he looks absolutely fantastic!
One thing that both the Sphero BB-8 and the Hero BB-8 share is the problem of the head coming off during a crash, although I found that even though the Hero BB-8 has a MUCH heavier head in comparison, it doesn't come off at much. As long as you don't drive it full speed at a wall, you should be fine, but it may take a bit of driving practice. Another aspect of the droid is multiple frequencies. If you have friends using a Hero BB-8 or perhaps some new Hero Droids come out, you can set your BB-8 to a different frequency so that you can drive mutliple droids in one area without crossing frequencies with your friends. So now that we drove it around, let's move on to the next mode. Voice Command!
Voice Command
What good would a huge BB-8 with lights and sound be if you couldn't talk to it and interact with it like any other droid? To activate this mode, push the remote switch to the middle which will cause the light on the remote to turn off and now you can set it down or clip it to your back pocket (you'll see why later!). Don't worry! This is supposed to happen for voice command mode! Remember that Quick Star Guide I told you to hang on to? Now's the time to pull that puppy out and get some use out of it!
Listed on the back of the Quick Start Guide are the Voice Commands you can use to interact with BB-8. This mode is actually very fun and my niece got a kick out of this. If you say, "Watch Out! Kylo Ren!", BB-8 will react in a very scared and freightened manner making all the necessary sounds to convey his terror. Another scared, but different, action will occur if you tell BB-8 there are Stormtroopers. You can ask BB-8 if he's seen Rey, and he will acknowledge that he has in his own little way,
One of the funniest voice commands happens to be "Droid Please!" That phrase that Finn says to BB-8 on the Falcon. This phrase makes BB-8 rotate his head as if he had a neck and was saying, "Girl Please" with his pointer finger up. If you're standing across the room, tell BB-8 to "Come Here," and he will happily roll his way towards you. He didn't get close enough? That's okay! Just say, "Closer" and he will inch his way a bit closer to you.
That's not all. This mode has it's own litte mode within a mode. This is by far mine and my nieces favorite phrase to say and she played for hours with this phrase alone. Tell BB-8 to "Stand Guard!" and BB-8 will spin around, scan the area, and enrer Guard Mode. If someone happens to intrude on your area, BB-8 will go haywire rolling in circles and spinning his head while making a loud alarm noise. This is pretty entertaining to watch and even more entertaining to watch the reaction of unsuspecting visitors. And when you're done and need a break, just tell BB-8 to "Go to sleep" and he will lower his head and make a power down noise just like you would hear from a movie. There are several other phrases as well that include things like "Where is Poe?" and a few other fun phrases.
Now we move on to the third and final mode, Follow Me!
Follow Me!
Okay, I saved the best for last (at least in my opinion!), follow me mode. If you think about it, this mode isn't really all that special in actuality, but it is the way it worked that really impressed me and sold me on this mode. You set the controller to Follow Me mode by pushing the switch all the way to the right and then you'll want to clip the controller onto your back pocket (which the clip on the back of the remore) or wherever you choose and BB-8 will do exactly what the name implies. He will follow you!
I know, it might not sound all that exciting, but it REALLY works well! I remember seeing this displayed in the first commercial I saw of the product and they just walked back and forth and I was pretty impressed, but when I tried it out personally, I was even more impressed. I walked around and BB-8 followed me very, very well. I made my way around chairs, through doorways, and around other obstacles and he successfuly traversed and navigated them just as I did.
This made me think about the Sphero BB-8 that has a "draw pattern" feature which allows you to draw a pattern on your phone/tablet and have BB-8 follow it and everytime it went speeding off into a wall causing the head to launch into the air. This is what I half expected to happen from the Hero BB-8, but I was pleasantly surprised by how it worked. Not once did BB-8's head come off and BB-8 followed me around making noises and having a good time. Again, my niece had a really good time with this mode as well. After expecting it to run into everything possible, I was very glad to see this mode worked so well and with ease.
Overall Thoughts
One of the things I was concerned about was the longevity of the entertainment that Hero BB-8 provided. Was it going to be a quick novelty that wore out over the course of a few days like the Sphero BB-8? Or would this Hero BB-8 actually keep me wanting to come back and play with it. I was so excited about the Sphero BB-8, but the fact is I used it very few times and lost all interest in the tiny droid. But this giant Hero BB-8? I catch myself looking at it constantly throughout the day. Heck, if I even told you how many times I stopped to get up and play with it while I was writing this review, you wouldn't even believe me!
My niece calls me up nearly every day since i've gotten this droid and she asks me if I can drive over and let her play with it. She wasn't this excited about any other toy. I think it really has a lot to do with how screen accurate this droid is with the lights and sounds and it's size makes all the difference.
Now, I know some people may be turned off by the dedicated remote control and not using an app, but I actually prefer this if I had to make a choice. However, what would make this better is an OPTIONAL app. If they could figure out how to allow for either the remote control or use of an app for control this would be a win. If they had an optional application, it would allow for updates like Sphero could do. They would've also have been able to make use of the micro-USB port to allow for firmware updates, but all that aside, I much rather have the remote control they included instead of only being able to use an app.
Another missed opportunity would've been finding a way to have the "torch" thumbs-up from the movie integrated somehow. That would've been an amazing addition, but I can see the issues with needing to make sure the droid was positioned in such a way to allow for that function to occur. Overall, this is the best iteration of BB-8 that I have seen. This is not just a toy, this is fantastic for collectors too.
I had my Jaks Pacific Deluxe BB-8 displayed for awhile, but now that I have the Hero BB-8, it is much better to have displayed. And I believe that I will continue to enjoy this droid for as long as I can. Heck, it's become my go-to procrastination mechanism! Whenever I am working, I find myself staring at it and needing to drive it around a bit. Again, this might be the most overused phrase ever for anything droid related, but this is ABSOLUTELY the Droid you're looking for!
Promotional Video
External Links: