Title:

Star Wars NVIDIA TITAN Xp Collector's Edition

Release Date: November 17, 2017

Collector's Editions: Galactic Empire or Jedi Order

Standard Memory Config: 12 GB GDDR5X

Retail Price: $1,138.00

Credits: Review & Text: Chuck Paskovics; Page layout & Design: Chuck Paskovics
Power! Unlimited Power!
Review
NVIDIA joins the Star Wars game with the release of an incredible pair of high-end video cards, and they did it on their top-of-the-line TITAN Xp platform. PC hardware enthusiast that have a passion for Star Wars can now combine their loves with a brilliantly designed piece of tech that looks like it was pulled right out of the Star Wars universe! You can choose from either a Galactic Empire or Jedi Order design. The NVIDIA TITAN Xp Star Wars Collector's Edition is now available.
Thanks to NVIDIA, we have the opportunity to break down the Jedi Order version of this card (this IS Jedi Temple Archives after all!). We'll take a look at the packaging, design, and performance of this video card, with a focus on the collectible side of things. While we will showcase some of the Titan Xp's performance numbers (we'll leave the high-end complicated charts and graphs to the hardware-centric website reviews), our main focus will be to show you how this card fits in as a high-end functional collectible.
Having just built a mid-range to high-end PC just a few months back, getting a chance to put this beast in my recent build was perfect timing. My custom build also features a customized Jedi-themed case, so it was a match made in heaven! For comparison purposes, I put the NVIDIA TITAN Xp Star Wars Collector's Edition up against my current card, a mid range MSI NVIDIA GTX 1060 Gaming X card. In a nutshell, it was like trading in a Mustang for a Ferrari 458!
Packaging & Presentation
Aside from the fact that you are getting one of the top-of-the-line video cards available on the market with the NVIDIA TITAN Xp, this newly designed Star Wars themed card comes wrapped up in some of the coolest packaging you will find for a video card! I'm used to pulling video cards out of standard boxes, wrapped in anti-static shielded bagging. That is not the case here!
Presented in a beautiful white box emblazoned with the Jedi Order logo, this box is thick, heavy, and feels like it could be made of wood. The outer case is a slip-case design, sliding up and off of the main compartment. This reveals the card displayed in a very thick acrylic display case, showcasing the video card as if it were a lightsaber. The card is embedded in a thick display base of foam, supported on top by 2 clear brackets. The acrylic case also slides up and off allowing you to remove the card from the foam.
The bottom of the display base features a 'hidden' slide-out compartment which has the accessories for the card (an HDMI to DVI adapter, some paperwork, and an awesome embossed Jedi Order medallion that can be affixed to your computer case). This slide-out feature is so well integrated into the design of the box that I didn't even notice it on my first go-around taking pictures!
NVIDIA's design team hit a home run with the packing for this video card. They could have very easily put this in a standard Star Wars themed flimsy box like any other video card. Instead, they took a video card and gave it a home for life after it runs its course inside of a computer. Like all computer hardware, some day this card will be replaced by the next big thing. Normally after that happens, the card ends up recycled, sold, or in a box where all computer hardware goes to die. Instead, pull this display case out of storage and find a home for it on a shelf with the rest of your Star Wars collectibles and it will fit right in!
Hardware Design
Once you take this card out and have a look at it you will realize that it was designed not only to house an incredibly powerful video card, but also to mimic something taken right out of the Star Wars Universe! The coolers for this card are designed to resemble a weathered lightsaber, with the surface old and used. Once up and running, LED's light up in a beautiful green hue from both the front, the fan, and the cooling tubes. When this card is sitting in its display box, you would be hard pressed to even realize you are looking at a video card at all. Note: The pictures also are enhanced by in-case LED lighting. The video card only lights up in green.
The side view (once installed) looks like the side of a lightsaber. The words 'Jedi Order' are displayed in brilliant green. The top of the card (the bottom when installed) looks more like some component pulled from inside of the Millennium Falcon. The brushed metal surface gives the whole component a very 'used' Star Wars look and feel.
If you are getting this card for your computer it is an absolute must that you have a clear window on the side of your tower to enjoy the full aesthetics of this card. Otherwise, you will never appreciate what this design does to the inside of your tower. It is meant not only to be used for its raw graphics power, but also for its display power! If you are going to label something a Star Wars Collector's Edition, it MUST live up to its name, and this one does!
Performance Testing
I chose to run this card against the current card I have installed for a more practical head-to-head comparison. Using all of the same components, other than the video cards themselves, allows for a more decisive look at how much of a performance boost this card can bring to your system. There are plenty of online comparison guides out there to compare the TITAN Xp to other cards.
System components used to test both video cards:
Windows 10 (64-bit)
Intel Core i7-7700 Processor
32GB DDR4-3000 Memory

ASUS Prime Z270-A Motherboard
Samsung SSD 850 EVO M.2
EVGA SuperNova 850 GZ Power Supply
Video cards being tested:
NVIDIA MSI GTX1060 Gaming X ......VS...... NVIDIA TITAN Xp Star Wars Collector's Edition
Benchmark Software:
3DMark
Heaven Benchmark 4.0
PerformanceTest 9.0
UserBenchmark
Scoring summary:
| | | |
| --- | --- | --- |
| Software | GTX 1060 | Titan Xp |
| 3DMark "Time Spy" | 4285 | 10020 |
| 3D Mark "Time Spy Extreme" (4K) | 1969 | 4676 |
| Heaven Benchmark 4.0 | 721 | 1832 |
| PerformanceTest 9.0 | 10514 | 14202 |
| UserBenchmark | 75.8% 3D Score | 173% 3D Score |
As you can see by the numbers, in almost every test the performance from my mid-range 1060 more than doubled with the TITAN Xp. Below is a detailed graphical side-by-side comparison of the full results for each card. Click the graphics for a side-by-side results comparison.
3DMark "Time Spy"
3D Mark "Time Spy Extreme" (4K)

PerformanceTest 9.0
Heaven Benchmark 4.0
UserBenchmark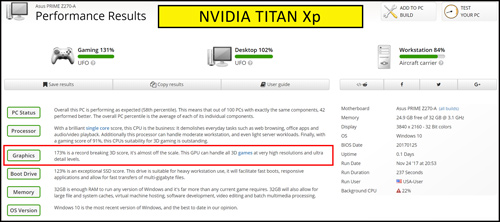 Overall Thoughts
For the average user, the price point will scare you away from a high-end graphics card like this. However, this IS the standard pricing for the top of the line TITAN Xp card (Star Wars Collector's edition or not), and if you are in the market to build your own custom rig, or looking to give your current setup a major performance boost for 3D gaming, then why not make it a Star Wars themed card!
The actual design of this card is the major selling point for anyone in the market to do just that. Building your own powerhouse computer from the ground up is a very fulfilling accomplishment, even for the novice builder. Being able to show off components when they are designed like this is every bit as good as showing off your collectibles sitting on your display shelf! This card will most assuredly accomplish that! And for that, I couldn't recommend it enough!
May the GeForce Be With You!
Want to check out a well-rounded review of the Galactic Empire version of this card? Check out HotHardware.com for their look at this card!
Promotional Video
External Links: