Toy Fair 2009 - Kotobukiya Report
Date: February 14, 2009 at 03:15 PM ET
Topic: Kotobukiya



     The first stop for JTA's news staff at the 2009 New York International Toy Fair? None other than Japanese design house, Kotobukiya! So what do they have in store for collectors in 2009? Read on for details!






ART FX PLUS



The centerpiece of Kotobukiya's Star Wars license is their ART FX Plus line. The core theme is The Clone Wars, and the line focuses on the central heroes and villains of the first season of the Clone Wars animated series. Suggested retail price for each figure is $59.99.

Each ART FX Plus figure stands approximately 8" tall, and comes packaged with components for a Build-A-Figure. That Build-A-Figure is assembled from parts that ship with each of the 3 characters in a wave. A notable feature for each figure are powerful magnets in the feet. They're strong enough to not only hold the figure in place on it's display stand, but you can also attach the figure to a vertical metal surface like a cabinet or refrigerator. Just be careful around your computers and hard drives!

Koto has thus far announced three waves of ART FX Plus figures. Those waves break down as follows:

JEDI - Available May 2009
Ahsoka Tano - includes Rotta the Huttlet & backpack
Anakin Skywalker (can also wear the backpack)
Obi-Wan Kenobi
BUILD-A-FIGURE - Yoda

CLONE TROOPERS - Available June 2009
Commander Cody - includes helmet and non-helmetted head
Captain Rex - includes helmet and non-helmetted head
Commander Gree - includes helmet and non-helmetted head
BUILD-A-FIGURE - Jet Trooper - This clone is a white armored phase I Clone with a removable jet pack. It does not include a non-helmetted head

SITH - Availability TBA
General Grievous
Count Dooku - includes extra arms for Grievous
Asajj Ventress - includes extra arms for Grievous
BUILD-A-FIGURE - Holographic Darth Sidious

Koto was also displaying a prototype of Clone Commander Fox in the ART FX Plus format. Availability is still to be determined, but it may be a potential exclusive. Keep checking back at JTA for more news.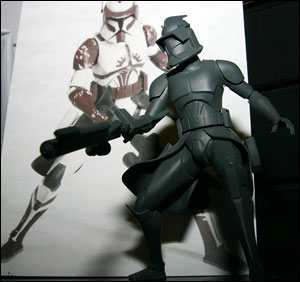 Should the Clone Wars continue, Koto may be exploring some other characters down the line in the ART FX Plus format. Nothing is confirmed at this time, but the running theme of Clone Wars seems to be steering this particular line.




ART FX

Koto was not displaying any new releases from their ART FX 1/7th scale vinyl figure line which you can see here. They are still in the process of shipping the final pieces in their Bounty Hunter series. That series consists of the Bounty Hunters from THE EMPIRE STRIKES BACK in a circle series of bases which combine to form the Imperial sigil. Each Bounty Hunter ships with parts to assemble a Darth Vader Build-A-Figure.

Koto seems poised to continue this line, but their presentation at Toy Fair seems to indicate that their focus in 2009 will be Clone Wars.




YUPON

Koto's Yupon line is a series of 2" super-deformed figures from various licenses. And while Koto does not have a Star Wars license for their Yupon line, they did manage to sneak one little chase Star Wars item into the line by way of their Indiana Jones line. That chase ties into the Indy line because the chase item is none other than Han Solo. However this particular item may be difficult to come by as the Yupon line is only sold in Asia.




REAL MASK MAGNETS


Koto is continuing to manufacture Art Box's Real Mask Magnets. They're a series of refrigerator style magnets of character head likenesses. Koto is moving into a 5th series of these offerings which were not on display at the booth.




OTHER STUFF

Koto is also continuing on with their series of etched glasses. The first of which was an R2-D2 glass that was sold exclusively at Star Wars Celebration 4 in Los Angeles. The newer offerings include a C-3PO glass and an R4-P17 glass.

Also on tap are a very novel idea. They're called Chop Sabers! They're chop sticks which are shaped as lightsabers. Each pair features identical lightsabers, and on display were Yoda chop sabers and Darth Vader chop sabers.


Keep checking back at JTA as news & photos continue to pour in from the 2009 New York International Toy Fair!